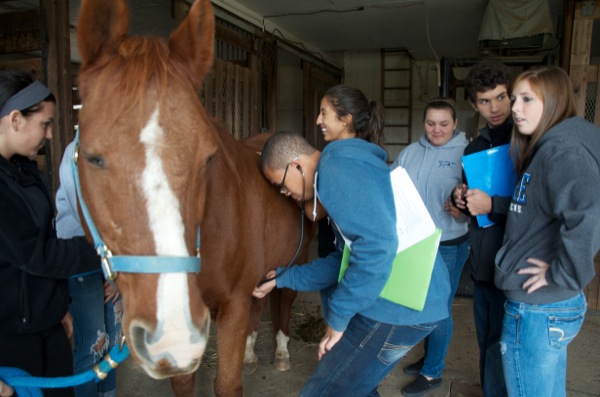 Equine studies gift
UD donors fund Equine Studies Program
3:14 p.m., Jan. 21, 2013--Stuart M. and Suzanne B. Grant of Greenville, Del., recently donated $1 million to develop and support an Equine Studies Program in the College of Agriculture and Natural Resources (CANR) at the University of Delaware. With this generous gift, the University will create an equine studies minor in the Department of Animal and Food Sciences that will be available to UD students.
"The Department of Animal and Food Sciences (ANFS) has recognized for some time that our undergraduate programs could be significantly enhanced by the addition of a minor in equine studies," said Jack Gelb Jr., chairperson of ANFS. "However, we have not had the resources to make an equine minor a reality." That was, of course, before Stuart and Suzanne Grant generously stepped in.
From graduates, faculty
As it neared time for the processional to open the University of Delaware Commencement ceremonies, graduating students and faculty members shared their feelings about what the event means to them.
Doctoral hooding
It was a day of triumph, cheers and collective relief as more than 160 students from 21 nations participated in the University of Delaware's Doctoral Hooding Convocation held Friday morning on The Green.
Stuart Grant is co-founder and managing director of the Wilmington law firm Grant and Eisenhofer. A lawyer by trade and alumnus of Brandeis University and New York University Law School, he and his wife may not be the most obvious choice to endow an equine studies program at the University of Delaware. Their story, though, illustrates an interesting path of great affinity for both horses and UD.
In 2000, the Grants purchased their first racehorse. When that horse began winning races, the excitement propelled them to begin building a horse breeding and racing enterprise that today includes a horse farm, a training center and substantial racing and breeding stock – an impressive operation that provides employment for many in the South Carolina, Kentucky and Pennsylvania regions. Through it all, there was one thing about the horse business that bothered Stuart Grant. 
"When my horses were being examined by the veterinary staff, I couldn't always understand everything the vets were telling me -- and I hated that," he said. "I decided that I wanted to continue my education by taking pre-veterinary courses that would help me better understand the horses."
In fall 2009, Grant gave up his position as an adjunct professor of law at Widener University School of Law and enrolled as a part-time student at UD, taking courses in animal science. A year and a half later, Delaware Gov. Jack Markell nominated Grant to the University's Board of Trustees. 
It is Grant's subsequent relationship as a UD Trustee and student, as well as his enduring commitment to the horse breeding and racing industries, that prompted the Grants' recent $1 million gift to CANR. The gift is most welcomed by the leadership of the college.
"The Grants' gift will allow us to grow enrollment and interest in the college, which is a major priority at this time," said CANR Dean Mark Rieger. "Though it will be open to students within CANR, we hope the equine minor also will attract students from outside the college. In doing so, the equine minor will allow non-CANR students to learn more about our college and career opportunities, which are plentiful and rewarding."
Grant agrees, and said he foresees many students not currently involved in CANR being drawn to the college by the new equine studies minor. "More than half of the current members of the University's equestrian team are majoring in disciplines outside of the College of Agriculture and Natural Resources," he said. "They may be business majors or health and human development majors, but their love of horses will likely compel them to pursue this minor as a complement to their existing studies."
The mid-Atlantic region, in which UD is located, is home to a flourishing horse industry, including thoroughbreds, standardbreds and Arabians. This makes an equine studies minor a logical and welcome addition to the UD curriculum.
One person who welcomes the addition of the equine studies minor to UD is student Samantha Rosser of Amityville, N.Y., a senior. An animal science major and member of the UD equestrian team, Rosser is a lifelong animal lover who has been riding horses for the past 13 years. As she begins applying to graduate programs in animal behavior, Rosser is keenly aware of the opportunities this new minor will create for future UD students. 
"The creation of an official equine minor will encourage students to expand their areas of study," said Rosser. "I think it will provide a great opportunity for students to learn more about horses. The University has great resources in the equine industry, and with the addition of this new minor and more courses, I believe CANR will augment its appeal to prospective students."
Article by Shannon Pote
Photo by Danielle Quigley