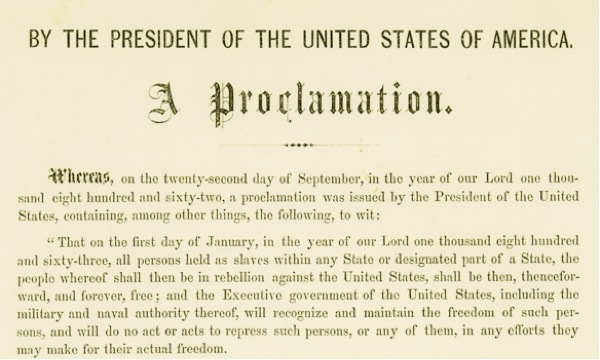 Through June 3: 'Emancipation'
University Library hosts exhibition 'Emancipation and Its Legacies'
1:20 p.m., Jan. 25, 2013--The University of Delaware Library has announced a new exhibition titled "Emancipation and Its Legacies," which will be on view in the Lincoln Exhibit Case adjacent to the Special Collections Exhibition Gallery in the Morris Library through Monday, June 3.
On Jan. 1, 1863, President Abraham Lincoln issued the Emancipation Proclamation, which declared that slaves in the Confederate states, with the exception of Tennessee, southern Louisiana and parts of Virginia, were now free. The Emancipation Proclamation also announced the Union's intention to enlist black soldiers.
June 5: Blue Hen 5K
University of Delaware graduates planning to attend Alumni Weekend are encouraged to register for the annual Blue Hen 5K walk and run, which will be held Sunday morning, June 5.
June 6-9: Food and culture series
The 20th annual June Lecture Series at the Osher Lifelong Learning Institute at UD in Wilmington will be held June 6-9. Titled 'June a la Carte,' this year's program focuses on great political documents, feminism, world politics and a Newark cuisine sampler.
Prior to the issue of the Emancipation Proclamation there were a series of laws passed intended to free slaves in Confederate states, called the Confiscation Acts. These acts enabled Union soldiers to seize Confederate property in occupied areas of the South. Slaves who became captives of the Union were set free. The ability to enforce these acts was limited. Lincoln had also proposed the idea of gradual compensated emancipation, which was unsuccessful.
The issuance of the Emancipation Proclamation brought about debates over the president's war powers and the legality of the proclamation. Despite these arguments, the Union went forward with recruiting and enlisting freed slaves. Black soldiers made up 10 percent of the Union army by 1865. 
In honor of the 150th anniversary of the Emancipation Proclamation, this exhibition will display pamphlets, speeches, broadsides, manumissions, books and letters from the actions leading up to emancipation and the events that followed, to commemorate the legacy and enduring memory of this significant historic proclamation. 
Facsimiles of the Emancipation Proclamation and the 13th Amendment will be on display; however, library users can visit Special Collections during normal business hours to see the original documents. Special Collections contains one of 20 copies in extant of the Emancipation Proclamation and one of only four extant copies of the 13th Amendment.
The exhibition can be viewed during the regular hours of the Morris Library. The curator of the exhibition is Laurie Rizzo, assistant librarian of the Special Collections Department in the University of Delaware Library. The exhibition is available online.