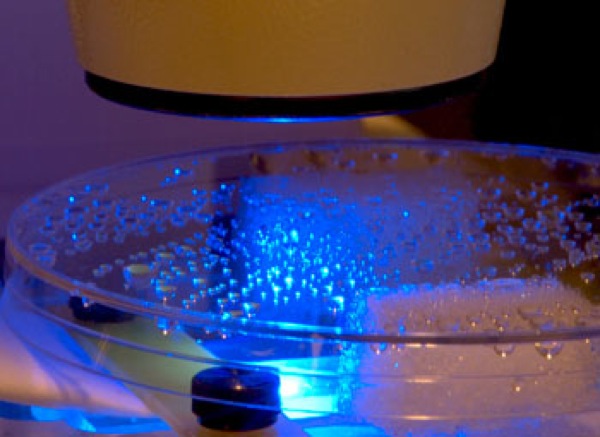 Bioscience funding
DBI, DEDO award grants through Delaware Bioscience Center for Advanced Technology
10:29 a.m., Jan. 11, 2013--The Delaware Biotechnology Institute and the Delaware Economic Development Office have awarded a new group of grants — the second round of grant funding awarded this year through the Delaware Bioscience Center for Advanced Technology (Bioscience CAT).
The Bioscience CAT grants synergize efforts among the academic and industrial community to address the technology innovation gap and promote economic development in Delaware. Projects involve partnerships with investigators at Delaware academic or research institutions linked to scientists in Delaware businesses.
Chronic wounds
UD's Millicent Sullivan and Kristi Kiick have received a $1.4 million grant from the National Institutes of Health for research that could provide a new approach to the treatment of chronic wounds.
Prof. Heck's legacy
The American Chemical Society is highlighting the legacy of the late Nobel laureate Richard Heck, the Willis F. Harrington Professor Emeritus of Chemistry at the University of Delaware with a digital tribute on its publications website.
"Thanks to the vision and policies enacted by Gov. Jack Markell, Delaware is quickly becoming a leader in several areas of innovation, including biotechnology, that will help fuel the ongoing revitalization of our state's economy," said Alan Levin, director of the Delaware Economic Development Office. "We're very excited to renew our commitment to the Bioscience Center for Advanced Technology, and pleased to see the positive impact this second round of projects will have on some of our most vital streams of job growth and revenue, including the pharmaceutical and agricultural industries."
The second round of CAT grant-funded projects and partners include:
"Directed Evolution of an Oxygen Tolerant Hydrogenase via High-Throughput Enrichment," Jennifer Biddle of the University of Delaware (lead researcher) in partnership with H2OPE Biofuels.
"Deconvoluting Catalyst Libraries with Supercritical Fluid Chromatography," Joseph Fox of UD in partnership with Lotus Separations.
"Assembly of Novel Controlled Release Polyplexes for Efficient mRNA Delivery," Millicent Sullivan of UD in partnership with Fraunhofer Center for Molecular Biotechnology.
"Establishment of Newborn Screening and Biomarker," with Shunji Tomatsu of Alfred I. duPont Hospital for Children of the Nemours Foundation in partnership with Agilent Technologies.
"The Development of Silyl-Heck Reactions in Supercritical CO2," with Donald Watson of UD in partnership with Supercritical Fluid Technologies Inc.
"Strategic Design and Testing of Anti-Cancer Monoclonal Antibodies," with Deni Galileo of UD in partnership with Strategic Diagnostics SDIX Inc.
In addition to the newly funded CAT projects, the ongoing CAT grant-funded research that began in May 2012 is well underway, showing the impact Delaware research has on problems of global significance.
For example, Rob Mason, the director of Cell Science Core, A.I. duPont Hospital for Children, head of clinical biochemistry laboratory, and adjunct associate professor of biological sciences at UD, partnered with Agilent Technologies on "Compatibility of Pediatric Drug Formulations."
"This award is not only having a direct impact on our ability to determine stability of drug formulations used in pediatrics, but is also stimulating widespread interest in the incorporation of LC/MS/MS technologies into clinical diagnostics, therapeutic drug monitoring and new-born screening," says Mason. "The partnership between Nemours and Agilent will enhance the quality of care for our patient population and expand the utilization of Agilent's technologies both locally and nationally."
Adam Marsh, associate professor of marine biosciences in the College of Earth, Ocean, and Environment at UD, whose CAT grant is titled "Protein Structure Metrics for Synthetic Biologics," in partnership with Wilmington Evozym Biologics Inc., discusses how CAT removes boundaries.
"The separation between applied vs. academic research activities may have a fuzzy boundary, but there is a boundary nonetheless," says Marsh. "The CAT project has allowed me to focus specifically on algorithm performance optimization, which is important in an applied context, but something that I could not develop fully within the bounds of my funded academic work."
Terry Papoutsakis, Eugene du Pont Chair of Chemical and Biomolecular Engineering at UD, and his postdoctoral researcher, Nicholas Sandoval, are working with Dynasep and Elcriton Inc. on "Improving Clostridial Fermentations of Glycerol, and Integrating with ChemX Technology to Demonstrate Lowest Cost Butanol Production."
"The CAT grant has introduced a new organism to our lab, a nonpathogenic Clostridium strain, which is industrially-relevant, but not well represented in the literature," says Sandoval. "While this is an industrial project, we are able to concurrently work on developing tools and methods to make this strain useful in the academic setting, to pursue more fundamental questions."
"We're very excited to see the progress that has been made by the Bioscience CAT and the launch of several new projects that will solve problems in agriculture, the environment, and human health," says Kelvin Lee, director of the Delaware Biotechnology Institute and Gore Professor of Chemical and Biomolecular Engineering at UD. "The partnerships that have been catalyzed between academic and industrial scientists are the foundation upon which these new discoveries are being made."
Bioscience CAT was launched in January 2012 to link researchers in Delaware institutions with Delaware bioscience companies with the goal of investing in the bioscience community to ensure Delaware competes on the world stage in biotechnology innovation.
Article by Laura Crozier