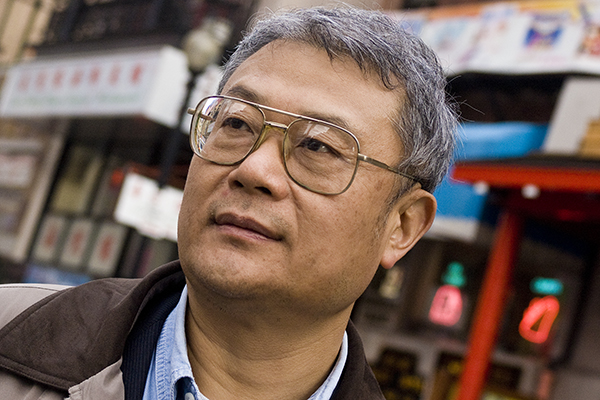 March 7, 8: Ha Jin
Famed Chinese-American author to speak as part of visiting writers series
2:35 p.m., Feb. 26, 2013--The University of Delaware community will welcome Ha Jin -- one of the foremost and most respected Chinese-American writers of fiction, poetry and essays -- on Thursday and Friday, March 7 and 8.
The visit, which will include a public lecture on March 7 and readings in both English and Chinese on March 8, is part of a recently developed visiting writers series, titled Transnational Encounters: World-Renowned Authors at the University of Delaware. 
Fulbright awards
Three University of Delaware students and an alumna have received word this spring that they will travel abroad as part of the newest class of Fulbright Student Program award winners.
Peace Corps plans
Two University of Delaware students, John McCarron and Bridgette Spritz, have been selected as Peace Corps volunteers and will serve in Ghana and Rwanda.
The project, made possible through a $50,000 grant from the College of Arts and Sciences' Interdisciplinary Humanities Research Center, aims to engage the UD community and general public with renowned writers whose works showcase rich cultural diversity. It has previously featured French writer and 2008 Nobel Laureate Jean-Marie Gustave Le Clézio.
Jianguo Chen, associate professor of Chinese Studies and director of the Confucius Institute, coordinated Jin's visit with the help of the Transnational Encounters, project directed by Richard Zipser, chair of the Department of Foreign Languages and Literatures.
"One of the objectives of the Transnational Encounters project is to provide the campus community as well as the broader community the opportunity to dialogue with world-class authors on issues such as transnationalism, diversity, identity politics and cross-cultural communication," said Chen. "Ha Jin's lectures will shed new light on these issues."
Born in China in 1956, Xuefei Jin (Ha Jin is his pen name) became a member of the People's Liberation Army at the age of 14. His novel Waiting, which won him the National Book Award in 1999 and the PEN/Faulkner in 2000, was based on his experiences during his five-year service in the Red Army. He was awarded the PEN/Faulkner again in 2005 for War Trash.
In contemporary American literary history only three other authors have won the prestigious PEN/Faulkner prize twice – Philip Roth, John Edgar Wideman and E.L. Doctorow.
Jin's unusual experiences, Chen said, have provided him a unique perspective to observe contemporary China in its complexity and diversity. "His intimate knowledge of China has informed many of his later works that enable readers to interact with a special kind of humanism."
Among many of the prestigious awards and honors Jin has received are Fellow of American Academy of Arts and Sciences, Guggenheim Fellowship, Hemingway Foundation/PEN Award, Asian Fellowship, Flannery O'Connor Award for Short Fiction,Townsend Prize for Fiction and Mary Ellen von der Heyden Fellow for Fiction.
Jin earned his master's degree at Shandong University in China, and in 1986 came to the United States to begin his doctoral work at Brandeis University. He was accepted into Boston University's Creative Writing Program in 1991 and completed his studies in 1994. He now works at the university as a full professor.
Though a native of China, Jin has done his writing in English.
In the judges' citation for the National Book Award, he was recognized for "profoundly understand[ing] the conflict between the individual and society, between the timeless universality of the human heart and constantly shifting politics of the moment" and his vivid depiction of "the complexities and subtleties of a world and a people we desperately need to know." 
Jin will deliver a keynote address in English in Clayton Hall on Thursday, March 7, at 5 p.m.
He will also be on campus Friday, March 8, and will conduct readings of his works in English (10:30 a.m.) and Chinese (2 p.m.) in the Trabant University Center Theatre.
All readings and talks are free and open to the public. 
The events have been organized and hosted by the Department of Foreign Languages and Literatures and the Confucius Institute, with additional sponsorship from the Center for Global and Area Studies, the Institute for Global Studies and the English Language Institute.