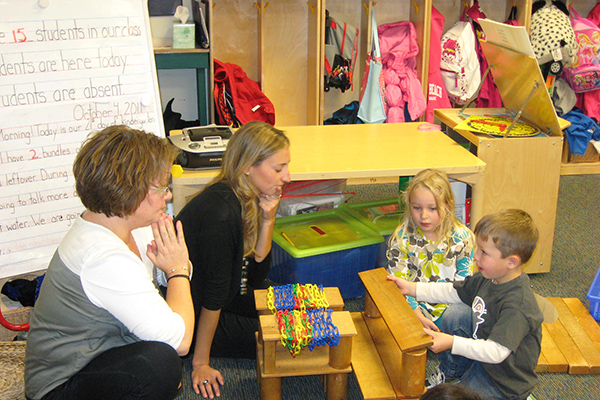 Feb. 12: Lab Preschool open house
UD Laboratory Preschool accepting applications for mixed age program
9:55 a.m., Feb. 11, 2013--The University of Delaware Laboratory Preschool is accepting applications for its 2013-14 full-day pre-kindergarten/kindergarten mixed age program for 4-6 year olds.
This unique program offers children the opportunity to learn and grow in an enriching classroom environment that nurtures and develops their natural curiosity.
June 5: Blue Hen 5K
University of Delaware graduates planning to attend Alumni Weekend are encouraged to register for the annual Blue Hen 5K walk and run, which will be held Sunday morning, June 5.
June 6-9: Food and culture series
The 20th annual June Lecture Series at the Osher Lifelong Learning Institute at UD in Wilmington will be held June 6-9. Titled 'June a la Carte,' this year's program focuses on great political documents, feminism, world politics and a Newark cuisine sampler.
Interested parents are invited to attend the Laboratory Preschool open house from 6:30-7:30 p.m., Tuesday, Feb. 12, to learn more about the program. 
The pre-kindergarten/kindergarten class meets Monday through Friday, from 8:45 a.m.-3:15 p.m. The class is limited to 18 children, with one master teacher, a co-teacher and several student teachers. This unusually low ratio of students to teachers promotes individual attention and flexibility. Children must be 4 or 5 years old on or before Aug. 31, 2013, to enroll.
There are also spaces available in the part-day pre-kindergarten program for older 3 year olds and 4 year olds. That class meets Monday through Friday, from 8:45-11:45 a.m. 
A nationally accredited and state licensed facility, the UD Laboratory Preschool offers an inclusive early education setting designed to encourage children to explore the world around them and reinforces different styles of learning.
It functions within the College of Education and Human Development, providing high quality inclusive programs for children ages two to six and their families. In addition, it serves to train and mentor undergraduate clinical students; facilitate research projects by University faculty and students; and serve as a site for professional development of high school students and early childhood education providers. 
The Laboratory Preschool is located on the southeast side of the University campus at 459 Wyoming Road in Newark. Those who are interested in attending the open house or who would like more information can call 302-831-8556 or visit the Lab Preschool website.