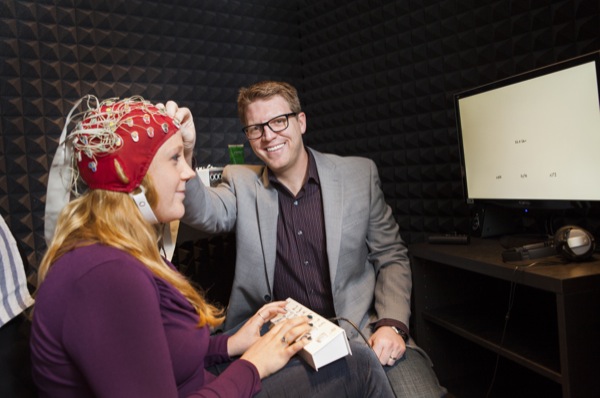 Rising Star award
Forbes recognized for research on effects of negative stereotypes
8:38 a.m., Feb. 8, 2013--Chad Forbes has had a longtime interest in how the brain works, as well as in the kinds of negative stereotypes he witnessed firsthand as they affected the lives of many of his childhood friends. 
Combining those interests led to an academic and research career as a social neuroscientist and recently earned him recognition from the Association for Psychological Science (APS), which selected him as a "Rising Star" of the profession. Forbes, an assistant professor in UD's Department of Psychology, will be featured in an upcoming issue of the association's Observer publication.
National Medal of Science
President Barack Obama recently presented the National Medal of Science to University of Delaware alumnus Rakesh Jain.
Warren Award
Rosalind Johnson, assistant dean for student success in the NUCLEUS Program in UD's College of Arts and Sciences, was presented the John Warren Excellence in Leadership and Service Award during a May 26 ceremony.
"This designation places you among an impressive cohort of individuals who in the early stages of their career are already making significant contributions in psychological science," the APS wrote in notifying Forbes of his selection.
His research focuses on how negative stereotypes affect our perceptions as well as the targets of those prejudices. Using cognitive neuroscience tools such as electroencephalography (EEG) to study brain activity, Forbes examines how the stereotype that women aren't as good at math as men are, for example, influences the way a woman taking a math test responds to feedback. 
He has found that if the research participant is "reminded" of her gender by completing a questionnaire just before taking the test — and if she is told that it will assess her math abilities, rather than just being asked to complete a "problem-solving task" — her performance is affected. Researchers attribute this underperformance to a phenomenon called "stereotype threat."
"In the first phase of stereotype threat research, people looked at: How do people do on the test? And how do they do in relation to the negative stereotypes?" Forbes said. "Now, in phase two, we're looking at the underlying reasons for the poorer performance we see in these stereotype targets."
Forbes, who grew up in a highly diverse neighborhood, said he became especially aware of prejudices when he was in high school. As he considered college, he saw that many of his Latino friends and classmates were not being treated as if higher education was going to be part of their future.
"I realized that expectations for me were different from the expectations for them," he said. "I also came to realize that there were lots of reasons besides intelligence for how well you do on the SATs."
He said his research indicates that prejudice against people of different groups may have some basic biological components that seem hard to overcome. On the other hand, he said, "Our brains are really malleable, so there's a lot you can do to counter stereotypes and train people to reduce their biases."
Forbes plans to extend his research and look at what negative stereotypes mean for a person's self-esteem and what types of things can be done to improve the situation for a woman, for example, considering a career in math or science.
"We know that the way teachers and parents treat boys and girls has a profound impact on what fields they go into," he said. "The ultimate goal is to find ways to reverse prejudices and feelings of bias."
Article by Ann Manser
Photo by Ambre Alexander