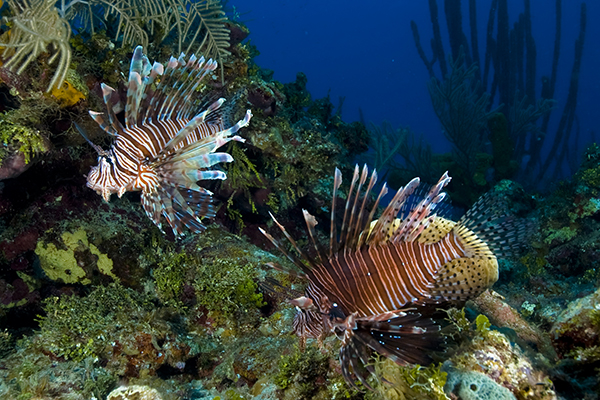 Lionfish invasion
Invasive species among marine science subjects in Cayman Islands study abroad program
10 a.m., Feb. 6, 2013--With a spiky fringe of venomous barbs and bold brown-and-white stripes, the exotic lionfish invaded Florida waters several decades ago and expanded its range widely from the Caribbean to New York. Native to the Indo-Pacific, the invasive species has no natural predators in this part of the world and readily feasts on small fish and shrimp.
UD students have the opportunity to observe these intruders — up-close and underwater — in a new study abroad program offered in the Cayman Islands through the School of Marine Science and Policy (SMSP).
Fulbright awards
Three University of Delaware students and an alumna have received word this spring that they will travel abroad as part of the newest class of Fulbright Student Program award winners.
Peace Corps plans
Two University of Delaware students, John McCarron and Bridgette Spritz, have been selected as Peace Corps volunteers and will serve in Ghana and Rwanda.
Beginning in January 2014 students can learn about lionfish, their impacts on coral reef habitats and scientific diving in Little Cayman, where the ocean environment has been relatively insulated from coastal development, overfishing and pollution.
"I was just blown away by how pristine that place is," SMSP Director Mark Moline said after returning from a recent scouting visit. "It's really a unique opportunity for students to see what coral reef environments used to look like everywhere."
With nearby reefs in good health, Little Cayman is a popular scuba diving destination with several resorts. When the intrepid lionfish made an unwelcome arrival there about four years ago, island residents saw it as a both an environmental and economic threat.
Lionfish eat young reef fish like grouper and snapper and also other small reef dwellers — and they eat a lot, growing to larger sizes in invaded areas than in their native habitats.
With high reproductive rates and few predators lurking nearby, their numbers can grow to densities five to 15 times greater than on their home turf, according to Tom Frazer of the University of Florida, Gainesville.
The presence of lionfish can reduce the size of existing fish populations, changing the structure of the reef environment, reducing biodiversity and making the ecosystem less resilient. Diving experts at resorts are fighting back with weekly culls, spearing lionfish along reefs with the help of skilled volunteers with proper government permission [watch a video of Frazer spearing a lionfish]. They catch sizable numbers to help keep lionfish out of reef areas that divers frequent.
"The value in this program at Little Cayman is that it demonstrates that you can effectively reduce the number of lionfish in targeted areas," said Frazer, a colleague of Moline who conducts research on the island.
While UD students won't be spearing lionfish as part of their study abroad experience, they will spend plenty of time underwater watching them. The new Winter Session program includes three classes: Scientific Diving, American Academy of Underwater Sciences (AAUS) Certification and Field Studies of Coral Reef Environments. UD faculty members Adam Marsh and Mark Warner will assist Moline in developing and teaching the courses.
The diving classes will cover diving physiology, emergency treatment, swimming training and hands-on instruction in using scientific equipment underwater. Students will learn how to conduct field experiments in conditions much more suitable than they could find back in Delaware, where cold winter temperatures, murky water and swift currents can make diving challenging.
Students will study and live at the Central Caribbean Marine Institute, a nonprofit field research and educational organization. In laboratories there, they will be able to study field-collected specimens more closely. For example, researchers are studying lionfish catches for information about the organism's diet and reproduction, and students may help in related dissections.
The field studies course combines lectures and experimentation to explore the physical, chemical and biological dynamics of coral reefs. Students will learn about the diversity of coral reef systems and inhabitants' physiological and behavioral adaptations, as well as human impacts from pollution and fishing.
While scuba diving out in the field, they will participate in coral reef monitoring and research techniques. For example, they could help researchers obtain baseline data on the prevalence of lionfish and figure out where young lionfish, only about 2 inches long, tend to reside.
Spending time in the water is how scientists find patterns in organisms' behavior and make connections to conditions in the environment, Moline said. By taking pictures, video and measurements, students will come away with practical experience and maybe even new directions for future research.
"Unless you're out there quite a bit, you can't form those questions," Moline said. "You just have to get in the water and spend a lot of time there to do that."
More information about the Cayman Islands Winter Session 2014 study bbroad session is available here. The deadline for students to apply is Sept. 25.
Article by Teresa Messmore
Photo courtesy of Neil van Niekerk