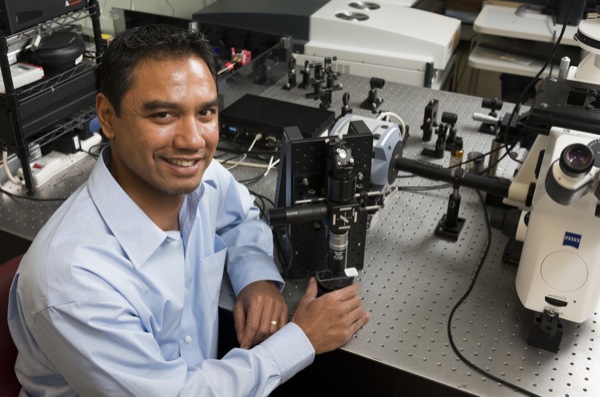 Space life
NASA funds astrobiology research by Delaware Biotechnology Institute scientist
9:02 a.m., Dec. 3, 2012--Does life exist anywhere else in the universe? That's the type of broad but poignant question NASA likes to ask, according to Chandran Sabanayagam, associate scientist in the Bioimaging Center at the Delaware Biotechnology Institute (DBI). And he would know, because he's preparing to help answer it.
NASA will receive $100 billion from the federal government over the next five years to assure America is number one in space exploration, according to Astrobiology.com. As part of its push to seek new partnerships and broaden its vision, NASA is offering grants to people conducting transformational science. With this opportunity, Sabanayagam is merging his love of physics and biology. 
Chronic wounds
UD's Millicent Sullivan and Kristi Kiick have received a $1.4 million grant from the National Institutes of Health for research that could provide a new approach to the treatment of chronic wounds.
Prof. Heck's legacy
The American Chemical Society is highlighting the legacy of the late Nobel laureate Richard Heck, the Willis F. Harrington Professor Emeritus of Chemistry at the University of Delaware with a digital tribute on its publications website.
"I was trained as a physicist, then started working in biology with DNA, proteins and microbes, and I fell in love with it," says Sabanayagam. "I went back to graduate school to earn a degree in molecular, cell biology and biochemistry to learn more about living systems. Being able to connect physics and biology with space research is very exciting to me. This is the newly emerging field of astrobiology."
The grant to fund his project "Development of CubeSat Microscope to Study the Survival, Adaptation and Evolution of C. elegans in Space" gives Sabanayagam two years to build an essentially shrunken high-powered microscope to travel into space to observe his subject — C. elegans, microscopic worms — as they adapt to an environment with zero gravity, while beaming images back to Earth.
"All of life has adapted and evolved in the presence of Earth's gravitational field. It will be important to the field of astrobiology to determine whether or not the presence of a gravitational field is required for life stability across many generations," says Sabanayagam. 
Sending humans back and forth to space to conduct experiments in what NASA calls educational satellite missions is a time consuming and costly venture. The NASA CubeSat projects give researchers the opportunity to conduct experiments in space without having to travel there. With the space community continuing to be on the cusp of innovation, they came up with the idea to use decommissioned intercontinental ballistic missiles to launch cubes containing experiments into space. 
NASA will get the experiment into space but with a challenge presented to eager scientists -- fit your experiment into a small vessel that ranges in size from 10 cubic centimeters to the size Sabanayagam will be sending his worms to space in, a vessel compared to the size of a loaf of bread at 10 by 10 by 30 centimeters. His experiment will orbit the Earth from 500 miles above the planet for nine months while traveling at a speed of 17,000 miles per hour. 
"From previous research, we know that C. elegan evolve quickly, so we will be able to see many generations within the nine month period in orbit to determine how they fare in a gravity unloaded environment," says Sabanayagam. "However, I not only have to design a small high-powered microscope that fits in a bread box, but I also need to design a life support system for the worms, lighting, camera, controls and telemetry that survive launch and zero gravity."
All this work will fulfill Sabanayagam's NASA grant requirements — getting his experiment to Technology Readiness Level 3, or TRL3 for NASA enthusiasts. After that, he'll engage NASA for another grant to get his experiment ready for launch at TRL9.
Sabanayagam's choice to send C. elegans to space versus something more commonly known to be compared to humans is threefold: They are one of the simplest organisms used as a human model with a nervous system; they generate quickly and can reproduce in zero gravity; and they are transparent, allowing scientists to see brain and muscle response with the help of fluorescent probes.
Other perks are that they're microscopic, so they don't need as much space as a few generations of mice, and Sabanayagam has already begun to develop a life-support "worm chip" where the animals will live and reproduce while in orbit.
NASA created the Astrobiology Program specifically to fulfill these small satellite missions, began creating the cubed satellites in November 2007 and began launching test satellites in 2008, according to ASK magazine, the NASA source for project management and engineering excellence.
Now in 2012, scientists like Sabanayagam are vying for the funds to get their experiments to space in an effort to reveal what's out there, what came before us and what will evolve. 
Delaware Space Grant (DESG), a NASA-funded program that supports Delaware researchers and students in areas that are related to NASA's missions, also provides additional funding for Sabanayagam's experiment. 
"DESG has been providing funds for 20 years to Delaware researchers who will be the technically trained members of NASA's future workforce," says Dermott Mullan, DESG director and professor of physics and astronomy at the University of Delaware. "DESG is pleased to support Chandran in his innovative approach to astrobiology. CubeSats are a hot topic among NASA-trainees at present, and Chandran is in line to be the first to have a CubeSat from the state of Delaware launched into space."
Sabanayagam's experiment will begin to yield results in about eight years from now, as the data beamed back to a laboratory here on Earth will be deciphered. From that information, scientists will know more about how humans may evolve to survive on other planets, like Mars.
"NASA will put a human on Mars one day," says Sabanayagam. "What I'm working on now is a small piece of figuring out how to accomplish that."
Article by Laura Crozier
Photo by Kathy F. Atkinson