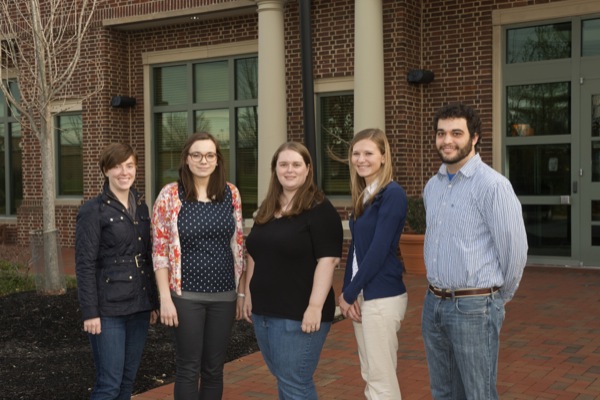 IGERT Scholars
Delaware Biotechnology Institute hosts reception for IGERT Scholars
2:04 p.m., Dec. 18, 2012--The Delaware Biotechnology Institute (DBI) hosted a reception Tuesday, Dec. 11, for the first cohort of five IGERT Scholars participating in the new National Science Foundation-supported Integrative Graduate Education and Research Traineeship (IGERT) program awarded to principal investigator Kelvin Lee, Gore Professor of Chemical and Biomolecular Engineering at the University of Delaware (UD) and director of DBI.
The Systems Biology of Cells in Engineered Environments (SBE2) five-year, $3 million grant will teach the IGERT Scholars critical skills related to science and engineering, as well as bioethics, research ethics, business innovation, communications and outreach. They will be trained through a multidisciplinary curriculum to become world leaders in industry, government and academia.
Chronic wounds
UD's Millicent Sullivan and Kristi Kiick have received a $1.4 million grant from the National Institutes of Health for research that could provide a new approach to the treatment of chronic wounds.
Prof. Heck's legacy
The American Chemical Society is highlighting the legacy of the late Nobel laureate Richard Heck, the Willis F. Harrington Professor Emeritus of Chemistry at the University of Delaware with a digital tribute on its publications website.
"We are excited by the motivation and quality of the students in this first group of SBE2 IGERT Scholars," says Lee. "We look forward to the their contributions as innovators in the bioscience community and to society as a whole."
The reception was an opportunity for the first group of IGERT Scholars to meet and mingle with their contemporaries as well as the UD faculty who are helping shape their program. 
This grant will bring together experts across the University in the colleges of Engineering, Agriculture and Natural Resources, Earth, Ocean, and Environment, Arts and Sciences, and the Alfred Lerner College of Business and Economics for a comprehensive, intense work/study program designed to create the science leaders of tomorrow. 
Co-principal investigators include Cathy Wu, Edward G. Jefferson Chair of Bioinformatics and Computational Biology; Kristi Kiick, deputy dean and professor in the Department of Materials Science and Engineering and biomedical engineering; Thomas Hanson, associate professor of marine biosciences and biological sciences; and Jia Song, assistant professor of biological sciences. 
"I'm excited about the IGERT program because I'm still not sure of what career path I'll take after graduation," says Stephanie Luff, SBE2 IGERT Scholar and second year biological sciences doctoral student at UD. "I've already been immersed in the academic side of my degree program and am looking forward to the industry exposure to help me decide my future."
Each scholar will embark on their SBE2 IGERT curriculum in January, and for two years will conduct rotations in faculty laboratories, participate in industry internships and do work in laboratories in Delaware and around the country, as well as design and implement solutions to important industry problems.
SBE2 IGERT Scholar Jen Niemczyk is returning to academia by pursuing a doctorate in chemical engineering at UD and is looking forward to the interdisciplinary approach to the program. "I think the SBE2 IGERT program will provide me with great experience by allowing me to work in labs outside of my discipline. But what I'm most looking forward to is class discussion and the interdisciplinary approaches to problem solving."
Each scholar is awarded a $30,000 stipend and given the opportunity to work with similar-minded classmates in different disciplines, and the diverse curriculum that is the basis for the SBE2 IGERT program. 
"I'm interested in the multi-disciplinary approach of the IGERT program, the focus on sharing knowledge between laboratories, and the field experience with industry internships," says Aidan Zerdoum, SBE2 IGERT Scholar and first year doctoral student in biomedical engineering at UD. 
The commencement of the IGERT program corresponds with the launch of a new Ph.D. program in bioinformatics and systems biology. Julie Cowart, a first year doctoral student in the new bioinformatics and systems biology degree program, recognizes the opportunity to be a pioneer within both of these new programs.
"As one of the first to be a part of the new bioinformatics and systems biology Ph.D. program and the SBE2 IGERT program, I'm excited for the chance to experience the interdisciplinary approach, as well as have a chance to influence the future of both programs," says Cowart. "With my background in computers, I'm looking forward to discovering what my classmates can contribute to this unique education experience."
Wu says she thinks Cowart will feel at home in these programs, but is also excited to introduce the other scholars to the world of bioinformatics. "The SBE2 IGERT program will expose more students to the computational aspects of science, and those not well versed in engineering will get that exposure too. This program will bring a broader perspective to everyone involved — students and teachers alike — and we're looking forward to it."
Lisa Sawicki, SBE2 IGERT Scholar and second year chemical engineering doctoral student summed it up best. "There's not one aspect I'm looking forward to more than another. The entire program sparked my interest with the lab rotations, industry internships, interdisciplinary problem solving, and the communications, business and ethics class. I'm excited to be in the first cohort of Ph.D. students to experience this program."
Article by Laura Crozier
Photo by Duane Perry