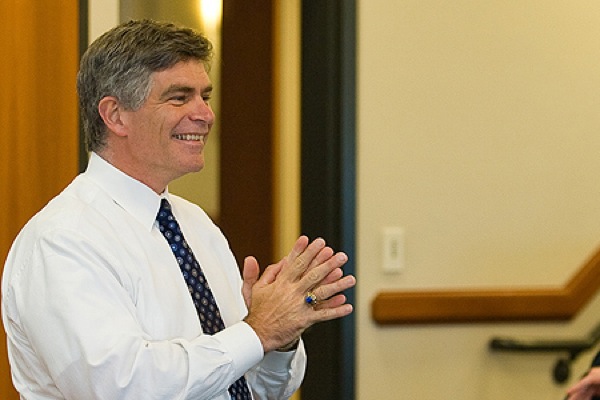 Charter fellow
National Academy of Inventors names President Patrick Harker a charter fellow
5:03 p.m., Dec. 18, 2012--University of Delaware President Patrick T. Harker has been named a charter fellow of the National Academy of Inventors. 
Election to NAI fellow status is a professional distinction accorded to academic inventors. The organization chose Harker for his outstanding personal contributions to innovation, and for facilitating and nurturing patents, licensing and commercialization for the purpose of economic development for the University and the state of Delaware.
National Medal of Science
President Barack Obama recently presented the National Medal of Science to University of Delaware alumnus Rakesh Jain.
Warren Award
Rosalind Johnson, assistant dean for student success in the NUCLEUS Program in UD's College of Arts and Sciences, was presented the John Warren Excellence in Leadership and Service Award during a May 26 ceremony.
Inductees of this prestigious group demonstrate a spirit of innovation and help bring to market inventions that make a tangible impact on quality of life, economic development and the welfare of society.
"I'm deeply honored to be named an NAI fellow. It's one of the top recognitions that U.S. inventors can receive, and it's humbling to be selected among so many giants of innovation," Harker said.
Included in the Charter class are eight Nobel laureates, two fellows of the Royal Society, 12 presidents of research universities and non-profit research institutes, 50 members of the National Academies (National Academy of Sciences, National Academy of Engineering, Institute of Medicine), 11 inductees of the National Inventors Hall of Fame, three recipients of the National Medal of Technology and Innovation, four recipients of the National Medal of Science and 29 American Association for the Advancement of Science fellows, among other awards and distinctions. 
Two other members of the Charter Fellow class also have ties to UD. James W. Wagner, president of Emory University, earned his bachelor's degree at UD, and Eric W. Kaler, president of the University of Minnesota, was a UD faculty member from 1985–2007, spending his final years in Newark as dean of the College of Engineering.
Academic inventors and innovators elected to the rank of NAI Charter Fellow were nominated by their peers for their outstanding contributions. Harker holds a patent for a method of analyzing transportation schedules, such as those used by railways, to optimize performance and cost. In 2008, he established UD's Office of Economic Innovations and Partnerships. OEIP works with the University community to turn research discoveries into meaningful inventions. During his presidency, UD has established or expanded relationships with numerous industry partners including: Christiana Care Health System, Nemours/Alfred I. duPont Hospital for Children and Thomas Jefferson University through the Delaware Health Sciences Alliance, JPMorgan Chase, the U.S. Army at Aberdeen Proving Ground, and many more. 
"I absolutely believe in the power of invention—its power to transform daily life, to reestablish what we consider possible, to make our striving efforts more effective and more efficient," Harker said. "Every time we tap our inventive ability, we have the chance to revolutionize how we operate and interact, and how we best serve society's most urgent needs. I'm thrilled to be in the company of people who share this work and these ideals."
The NAI Charter Fellows will be inducted as Fellows by the United States Patent and Trademark Office's U.S. Commissioner for Patents, Margaret A. Focarino, in February.
The NAI Fellows Selection Committee is composed of 14 Members from the National Academies, recipients of National Medals, a National Inventors Hall of Fame inductee, and senior officials from the United States Patent and Trademark Office (USPTO), the American Association for the Advancement of Science (AAAS), the Association of University Technology Managers (AUTM), the United Inventors Association and University Research Leadership.
About the National Academy of Inventors
The National Academy of Inventors® is a 501c3 non-profit organization composed of more than 45 U.S. and international universities and non-profit research institutes, with more than 2,000 individual academic inventor members and growing rapidly. It was founded in 2010 to recognize and encourage inventors with a patent issued from the U.S. Patent and Trademark Office, enhance the visibility of academic technology and innovation, encourage the disclosure of intellectual property, educate and mentor innovative students, and translate the inventions of its members to benefit society.