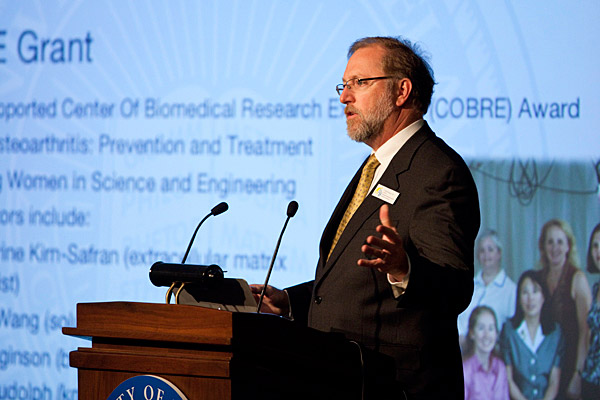 COBRE III
NIH award to continue support of osteoarthritis research
9:23 a.m., Aug. 3, 2012--The Delaware Rehabilitation Institute (DRI) has been awarded a five-year COBRE continuation grant totaling more than $5.4 million for osteoarthritis research.
Supported by the National Institutes of Health, COBRE grants are aimed at expanding and developing institutional biomedical research capacity by enhancing research infrastructure.
Chronic wounds
UD's Millicent Sullivan and Kristi Kiick have received a $1.4 million grant from the National Institutes of Health for research that could provide a new approach to the treatment of chronic wounds.
Prof. Heck's legacy
The American Chemical Society is highlighting the legacy of the late Nobel laureate Richard Heck, the Willis F. Harrington Professor Emeritus of Chemistry at the University of Delaware with a digital tribute on its publications website.
The University of Delaware has had a COBRE program focused on osteoarthritis (OA) research since 2001, with contributions from researchers in the colleges of Health Sciences, Engineering, and Arts and Sciences.
"We plan to build on the successes of our past COBRE grants to develop a strong team of investigators in osteoarthritis research," said Thomas Buchanan, Laird Professor of Mechanical Engineering and director of DRI.  "The uniqueness of our approach will be that we plan to examine OA from the integrated perspectives of tissue mechanics, biomechanics, and rehabilitation."
UD's multidisciplinary, multi-scale approach to the study of OA involves faculty doing work in extracellular matrix proteins, biomechanical modeling of joint forces, and clinical outcome studies. 
The work will comprise three research cores:
Cytomechanics—to provide tools for researchers to study how bone, cartilage, and ligament respond to stress and strain;
Patient-specific modeling—to provide tools to determine forces in muscle, ligaments, and cartilage in specific individuals; and
Clinical research—to facilitate clinical trials through patient database access and biostatistics support. 
In addition, the program will include an important mentoring component.
"Faculty development is key to our success," Buchanan said, "and we will continue to mentor our faculty and work with our External Advisory Committee to provide feedback to COBRE investigators about their research ideas. Our goal is to use these resources to establish a large base of NIH R01-funded investigators so that we can expand our efforts to make strong progress in understanding the prevention and treatment of OA."
Article by Diane Kukich
Photo by Ambre Alexander