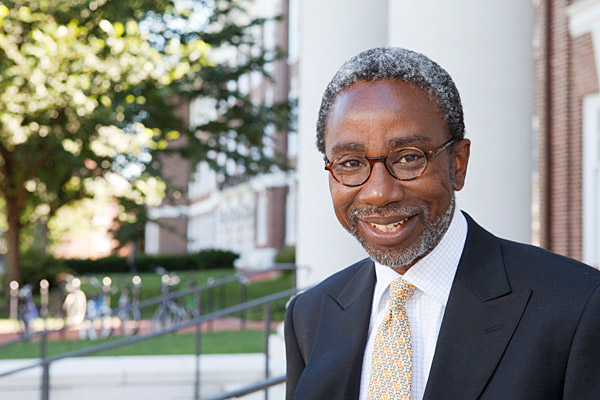 Listening in London
National pride expressed in lyrics of Nigeria's anthem
10:53 a.m., Aug. 6, 2012--What does dean of engineering Babatunde Ogunnaike have in common with a calypso singer, a home renovator, and an anesthesiologist?
All four are national anthem authors.
Fulbright awards
Three University of Delaware students and an alumna have received word this spring that they will travel abroad as part of the newest class of Fulbright Student Program award winners.
Peace Corps plans
Two University of Delaware students, John McCarron and Bridgette Spritz, have been selected as Peace Corps volunteers and will serve in Ghana and Rwanda.
Ogunnaike, who is the William L. Friend Chair of Engineering at the University of Delaware, contributed words to Nigeria's national anthem as part of a competition in 1977.  At the time, the country was emerging from years of civil war, and its leaders wanted to bring its diverse ethnic groups together. 
When the 21-year-old student saw some of the initial entries in the newspaper, he was not impressed with their quality, so he decided to submit one himself. 
Soon after that, he left Nigeria to attend school in the U.S.  He subsequently learned from his father that some of his words had been incorporated into the final lyrics of the song.  His share of the prize totaled 50 naira, or about 31 cents.
Now a member of both the Nigerian Academy of Engineering and the National Academy of Engineering in the U.S., Ogunnaike has an impressive resume documenting his work in process and systems engineering. But he still lists the anthem in his dossier.
Whenever he hears the words, most recently during the Parade of Nations in the London Olympic Games, Ogunnaike feels both pride and sadness. 
"It reminds me of unfulfilled promises," he says. "Nigeria has so much potential, and the words of the anthem were meant to reflect this."
Ogunnaike does not know the other writers who contributed to the anthem lyrics.  In fact, he didn't know that one of the others also lives in the U.S. until Alex Marshall, a reporter with The Independent, a newspaper in the U.K., contacted him for an article about modern-day authors of national anthems.
Sota Omoigui, now director of the Los Angeles Pain Clinic, was a teenager when he entered the contest, and his life followed a path similar to Ogunnaike's, in that he left his beloved native country for a better life in the United States.
Omoigui told Marshall that Nigeria never lived up to the words in his poem, which called for peace and unity.
"When I wrote it," he said, "it was my dream for the country to move forward and take its place among the great nations of the world.... But all that potential has been hijacked by bad leadership. Sometimes I wonder if we were ready for independence."
The two Nigerian anthem authors have one more thing in common — neither ever received a prize for winning the competition.  However, they're both still glad to have participated.
About the Nigerian national anthem
Arise, O Compatriots is the national anthem of Nigeria. Adopted in 1978, it replaced Nigeria, We Hail Thee. The lyrics are a combination of words and phrases written by John A. Ilechukwu, Eme Etim Akpan, B. A. Ogunnaike, Sota Omoigui, and P.O. Aderibighe.  The words were put to music by the Nigerian Police Band under the directorship of Benedict Elis.
The following are the words to the modern anthem:
Arise, O compatriots
Nigeria's call obey
To serve our Fatherland
With love and strength and faith
The labor of our heroes past
Shall never be in vain
To serve with heart and might
One nation bound in freedom, peace and unity
O God of creation
Direct our noble cause
Guide thou our leaders right
Help our youth the truth to know
In love and honesty to grow
And living just and true
Great lofty heights attain
To build a nation where peace
And justice shall reign
Article by Diane Kukich
Photo by Ambre Alexander