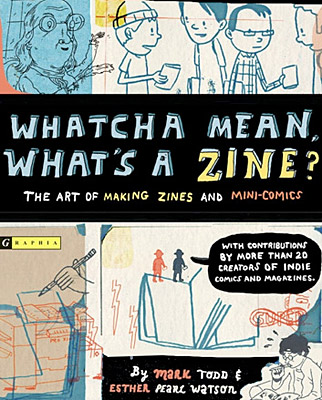 Aug. 14-Dec. 14: 'Zines!' exhibition
University of Delaware Library announces exhibition highlighting 'Zines'
9:24 a.m., Aug. 8, 2012--The University of Delaware Library has announced a new exhibition, "Zines! Self-Publishing and Youth Culture, Then and Now," which will be on display in the first floor exhibition cases in the Information Room of the Morris Library from Tuesday, Aug. 14, through Friday, Dec. 14. 
A form of self-publication, a zine is an amateur-produced, small-circulation magazine, typically created and distributed by one or two individuals using inexpensive materials such as photocopies. Prior to the widespread availability of the Internet, zines represented a vibrant means for young people to develop and communicate their ideas, showcase their creativity and engage in political discourse with one another.
June 5: Blue Hen 5K
University of Delaware graduates planning to attend Alumni Weekend are encouraged to register for the annual Blue Hen 5K walk and run, which will be held Sunday morning, June 5.
June 6-9: Food and culture series
The 20th annual June Lecture Series at the Osher Lifelong Learning Institute at UD in Wilmington will be held June 6-9. Titled 'June a la Carte,' this year's program focuses on great political documents, feminism, world politics and a Newark cuisine sampler.
The exhibition will focus upon the impact of zines upon youth culture in the United States. The exhibit will trace zines' origins as amateur-created, science-fiction "fanzines" in the 1930s to their evolution into new forms of communication including the blogs, web comics, fan fiction sites and online journals that are embraced by young people today.
Despite their amateur nature, limited readership and irregular publishing schedules, zines have had an important impact upon the underground cultural landscape in the latter half of the 20th century. Zines were instrumental in promoting new artists within rock, metal and punk music circles. Additionally, they were the preferred method of communicating the emerging punk aesthetic and philosophy that emerged in the 1970s and 1980s.
Likewise, zines played a major role in articulating and spreading the Riot Grrrl feminist movement in the 1990s. This short-lived, though significant cultural movement urged women to step forward as creators of art and culture rather than acting solely as passive consumers of mass media. Riot Grrrl feminism inspired and was fueled by the impassioned writings of young women who penned their thoughts and experiences of the world within zines. 
From juvenile literature to ethnographic studies of women within the punk subculture, the University of Delaware Library has a variety of resources and materials that explore the vibrant underground cultures and movements that inspired and were impacted by zines. On display will be materials from the library's general collection, which provide examples of zine writing and artwork such as David A. Ensminger's colorful work, Visual Vitriol: The Street Art and Subcultures of the Punk and Hardcore Generation.
Items from the general collection providing analyses of the punk subculture and the Riot Grrrl movement will also be included.
In addition, the exhibition will showcase authentic zines from the library's Special Collections Department including Figure 8 and No Snow Here, which are contained within the Brooklyn Artists' Alliance's Instant Zine Archive. Video resources from the Film and Video collection will also be included. 
The curator of the exhibition is Meg Grotti, senior assistant librarian and coordinator of library instruction in the Reference and Instructional Services Department, with exhibition preparation by Anita Wellner, library assistant in the Manuscripts and Archives Department, and design and installation of both the physical and virtual exhibition by Laurie Rizzo, assistant librarian in the Special Collections Department.