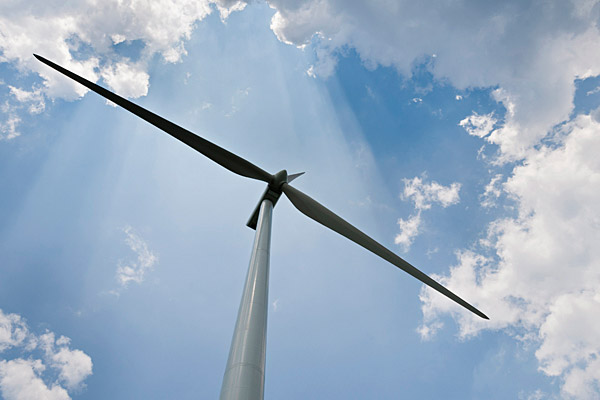 Turbine turns 2
UD's wind turbine in Lewes marks second year of energy generation, research
1:55 p.m., Aug. 1, 2012--This past June marked the second anniversary of the installation of the University of Delaware's wind turbine located in Lewes. Since it became operational in June 2010, the turbine has generated 9.5 million kilowatt hours (kWh), spinning out more than enough electricity to power the Hugh R. Sharp Campus.
"The turbine is a source of clean energy generation that powers our campus without polluting the air," said Nancy Targett, dean of the College of Earth, Ocean, and Environment. "Given its proximity to the ocean, it also serves as a unique platform for scientific research."
Chronic wounds
UD's Millicent Sullivan and Kristi Kiick have received a $1.4 million grant from the National Institutes of Health for research that could provide a new approach to the treatment of chronic wounds.
Prof. Heck's legacy
The American Chemical Society is highlighting the legacy of the late Nobel laureate Richard Heck, the Willis F. Harrington Professor Emeritus of Chemistry at the University of Delaware with a digital tribute on its publications website.
A joint committee that includes UD and wind turbine manufacturer Gamesa Technology Corp. has been actively driving multiple collaborative research and development projects.
"The project with the University of Delaware provides a unique opportunity to do collaborative research that has synergistic benefits for Gamesa and the University and yields results that can benefit the broader wind industry," said Miguel Angel Gonzalez-Posada, Gamesa's vice president of technology.
Since its commissioning in 2010 through May of this year, the Gamesa G90-2.0 MW model turbine generated more electricity than was needed to power the laboratories, offices and other buildings on the Sharp campus. The University sold 2.3 million kWh of the surplus electricity to the Lewes Board of Public Works. 
"The electricity is bought at the same price they would pay for energy from conventional sources," said Willett Kempton, professor of marine policy. "The turbine is operating cost effectively, selling power at market rates, and it's also helping to reduce the amount of coal and natural gas that has to be burned, which means that there's a public health benefit through cleaner air."
The energy sale proceeds are used to operate and maintain the wind turbine and to fund the research projects.
So far, two UD employees and two graduate students have completed specialized training by Gamesa staff as part of the company's Global University training program in Bristol, Pa. The training qualifies them to climb the turbine, install research instruments and perform maintenance.
Research projects have been plentiful. Last year, as part of a study of corrosion in a marine environment, students of Stephen Dexter, professor of marine biosciences, installed steel sample plates on top of the 256-foot turbine. Dexter is comparing plates placed at the ocean's edge with those placed at the turbine site, about a quarter-mile inland, to evaluate atmospheric corrosion rates over time. Early results show rates in Lewes to be comparable with those in other areas studied on the East Coast. The results of the study could be a useful tool when conducting site assessments for coastal wind farms.
Validation of an enhanced ultrasonic wind speed/direction sensor and acoustic emission/resonance-based health monitoring systems for blades and nacelle medium voltage transformer was successfully completed by Gamesa this past spring. Just recently, the company installed and began on-site validation testing for a new prototype generator, which is made specifically for production in the U.S. market.
"The collaboration with UD provides us with the opportunity to have a platform for testing systems, components and control software under live operating conditions," said Avinash Taware, electrical section manager at Gamesa. "The research team at the University has been an invaluable partner in the development and implementation of our projects." 
An ocean engineering graduate student recently started an experiment measuring the vibration of the tower and examining how it responds to wind force against the rotor.
"While it's not visible, the turbine's tower does move slightly," Kempton said. "It's a moving, dynamic system and designed to be that way. This research will improve models to better predict and analyze tower movement."
In a separate study, researchers are looking into the turbine's effect on bird and bat populations. UD Department of Entomology and Wildlife Ecology researchers Jeffrey Buler and Gregory Shriver, along with Kevina Vulinec, professor at Delaware State University, are conducting a two-year study in collaboration with the states of Delaware and Maryland.
Final reports on the tower and wildlife studies are expected late next year.
Article by Teresa Messmore 
Photo by Evan Krape