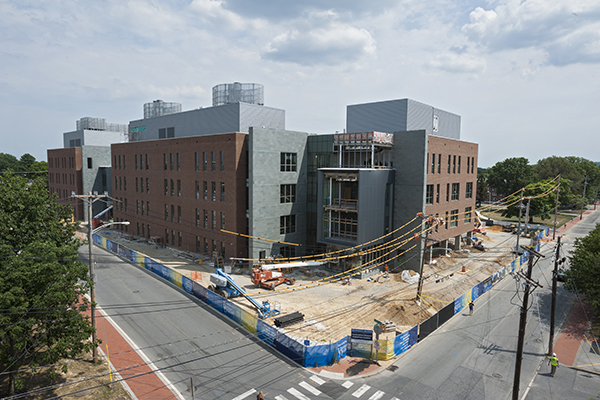 DuPont gives $5 million to UD
University announces $5 million commitment from DuPont for laboratory
8:58 a.m., Aug. 21, 2012--The University of Delaware has received a $5 million gift from DuPont to support the construction of the 197,000-square-foot Interdisciplinary Science and Engineering Laboratory (ISE Lab) on the University's Newark campus.  In recognition of the company's leadership support, an instructional wing of the new facility will be known as the "DuPont Science Learning Center."
The gift is the latest chapter in a strong relationship between UD and DuPont that has spanned over a century and in which DuPont has supported academic, programmatic and capital building initiatives throughout the University.
From graduates, faculty
As it neared time for the processional to open the University of Delaware Commencement ceremonies, graduating students and faculty members shared their feelings about what the event means to them.
Doctoral hooding
It was a day of triumph, cheers and collective relief as more than 160 students from 21 nations participated in the University of Delaware's Doctoral Hooding Convocation held Friday morning on The Green.
DuPont was an important partner in the creation of the Delaware Technology Park and Delaware Biotechnology Institute in 2000, provided substantial support for the construction of Lammot du Pont Hall in 1993, and in 1988 DuPont helped fund renovations to Colburn Lab.  Additionally, DuPont has supported many faculty positions and student activities at UD over the years.  
"The history of DuPont and the history of the University of Delaware are inextricably linked," said UD President Patrick Harker. "We've benefited from DuPont's partnership and generosity for many, many years, and we couldn't be more grateful for the company's abiding dedication to UD, and to our mission of excellence in teaching and research."
Multinational companies, like DuPont, recognize that the future of their organizations depends on the skills and preparedness of the next generation of science and engineering students.
"DuPont is excited about partnering with the University of Delaware to help further cross disciplinary research and education as a cornerstone to UD's mission," said DuPont Executive Vice President and Chief Innovation Officer Thomas M. Connelly.  "We look forward to engaging the academically diverse and innovative young scientists and engineers who will look to complete their education here."
The ISE-Lab, currently under construction at Lovett Avenue and Academy Street, is the first major laboratory to be built at UD in 20 years.  The DuPont gift is a boon to the University's goal of raising the $56 million of private funds needed to build this new, and greatly needed, facility.  UD has successfully raised $34 million in private funds to date.
Rising enrollment coupled with UD's top-ranked programs in engineering and science have resulted in a critical need for increased and more flexible teaching and laboratory spaces.  In recent years, it has been common for laboratory sessions in chemistry, biology and physics to be held on weekends and until 11 p.m. on weeknights in order to accommodate the demand for introductory-level and required courses.  The ISE Lab will ease classroom overcrowding while ushering in a contemporary approach to teaching science.  
Since 1997, the University of Delaware and its Institute for Transforming Undergraduate Education have earned international recognition as a leading expert in problem-based learning, an educational model in which students work collaboratively in small groups to solve complex problems.  The University's aim has long been to revamp its science and engineering curriculums to allow undergraduates to solve real-world problems using an interdisciplinary approach.  With adaptable learning spaces designed to incorporate instruction, laboratory space and problem-solving sessions, the ISE Lab is a key component to the success of this plan.
"The problem-based approach asks students not just to cover material, but to uncover it for themselves," says George Watson, dean of the College of Arts and Sciences. "It elevates the level of discovery in the classroom through engagement with interdisciplinary real-world problems. Students learn how to learn, a key to future success in their careers, and better to see the relevance and context of fundamental scientific concepts."
Traditional undergraduate teaching techniques involving large lecture halls and minimal active participation have done little to entice students into pursuing science majors.  UD hopes to increase the number of science and engineering majors by actively engaging undergraduates in inquiry approaches that allow them to learn and apply scientific principles to solve real-life problems.  This hands-on approach is intended to foster critical thinking skills, curiosity about the subject matter and collaboration across disciplines.
In addition to the teaching and instructional spaces in the DuPont Science Learning Center, the ISE Lab will house a research wing that will provide researchers with the most advanced scientific equipment and laboratory spaces available.  These facilities include a nanoprocessing clean room, an imaging and microscopy suite, a synthesis lab and an advanced materials characterization lab.  These advanced facilities will allow UD to recruit and retain the best and brightest of the scientific community as well as secure future Federal and private funding for research across scientific areas.  
Environmental sustainability and alternative energy sources are becoming increasingly relevant topics in our global economy.  For this reason, the research wing also will be the new home to three UD institutes focused on energy and the environment, including: Catalysis Center for Energy Innovation (CCEI), Delaware Environmental Institute (DENIN), and University of Delaware Energy Institute (UDEI).
Article by Shannon Pote
Photo by Evan Krape