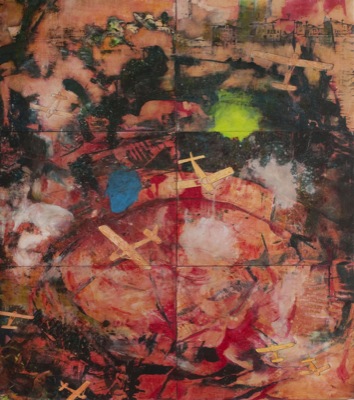 Sept. 1-30: 'Fragile Grace' exhibit
Art professor's exhibition juxtaposes images of historic Venice with 2011 tsunami
1:25 p.m., Aug. 14, 2012--"A Fragile Grace," a new exhibit by University of Delaware art professor Virginia Bradley that expresses both the destructive and beautiful effects of water on manmade spaces, will be on display at the Delaplaine Arts Center in Frederick, Md., from Sept. 1-30.
An exhibit reception is scheduled for Saturday, Sept. 1, from 3-5 p.m.
June 5: Blue Hen 5K
University of Delaware graduates planning to attend Alumni Weekend are encouraged to register for the annual Blue Hen 5K walk and run, which will be held Sunday morning, June 5.
June 6-9: Food and culture series
The 20th annual June Lecture Series at the Osher Lifelong Learning Institute at UD in Wilmington will be held June 6-9. Titled 'June a la Carte,' this year's program focuses on great political documents, feminism, world politics and a Newark cuisine sampler.
In 2011, Bradley was struck by the images of the tsunami in Japan and began considering the duality of natural phenomena. "Despite how destructive the tsunami was," she explained, "many images of the destruction were quite beautiful." 
Bradley began collecting photographs and watching videos of the event with an eye toward creating a new series of paintings. "It wasn't until I found a book of engravings in Venice that I knew I wanted to correlate the tsunami with Venice," she said. Upon discovering this book on the history of Venice, the artist became interested in the possibilities of juxtaposing images of an older city with a current natural disaster.
Bradley's paintings are composed of large birch panels that fit together modularly. Paintings measure from 4 by 3 feet to 8 by 12 feet. Her small collages are studies that explore ideas for the larger paintings and are based on the Venetian engravings.
"The paintings on birch panel were started with pours using house paint and were based on photographs of the tsunami," she explained. "The paintings were then painted with oil paint and collage was applied. Several of the paintings have carving into the surface -- sort of like a wood block print -- and one of the large pieces has pewter poured into the surface."
The work represented in "A Fragile Grace" is a reflection of the artist's fascination with impossible places. 
"The work is based on the effects of natural phenomena in relationship to fictional places," said Bradley. 
By fictional places, she is referring to places where man has chosen to inhabit that are not naturally suitable for habitation. "For instance, the location where Venice was created is not the ideal place to have founded a city. It's amazing that Venice still exists."
Bradley makes a similar statement about the island of Japan. 
"Despite the knowledge of possible earthquakes, Japan is densely populated and they continue to use technology (such as nuclear energy) that can prove to be extremely dangerous under conditions such as earthquakes and other natural phenomena."
"A Fragile Grace" will be on view in the Kline Gallery. 
About Virginia Bradley
Virginia Bradley resides in Philadelphia and is a professor of art at the University of Delaware. The artist is the recipient of several fellowships including a McKnight Foundation Fellowship in Painting, Arts Midwest National Endowment for the Arts Fellowship for Painting, and two Minnesota State Arts Board Fellowships in Painting and Drawing. 
She has also completed several Percent for Art Commissions for the Minnesota State Arts Board. Bradley has also been a fellow at Yaddo, Sanskriti Kendra (New Delhi, India), Fundacion Valparaiso (Mojcar, Spain), Ragdale, and the Virginia Center of Creative Arts.
Bradley received her master of fine arts degree in painting from the University of South Florida and a bachelor of fine arts degree in painting and printmaking from the University of Miami.
About the Delaplaine Arts Center
The Delaplaine Arts Center provides the Frederick, Md., region with educational opportunities and experiences in the visual arts through classes, exhibits, and programs.
The Delaplaine is located at 40 S. Carroll St. in Frederick. Hours are Monday through Saturday, 9 a.m-5 p.m., and Sunday, 11 a.m.-5 p.m.