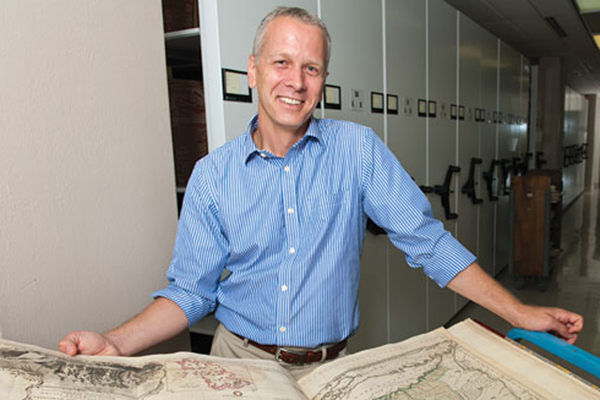 Mapping American life
Winterthur exhibit showcases UD professor's research on maps and culture
10:14 a.m., April 22, 2013--A new exhibit at Winterthur Museum highlights the research conducted by University of Delaware faculty member Martin Brückner, focusing on the important part that maps played in everyday American life from the 1750s to the 1870s.
"Common Destinations: Maps in the American Experience" opened Saturday, April 20, and will run through Jan. 5. Brückner, associate professor of English and of material culture studies at UD, was exploring what seemed to be an early American fascination with maps when he discovered that Winterthur's collections included numerous examples of maps being used in daily life. He developed the idea for an exhibition from that discovery and his additional research. 
'Resilience Engineering'
The University of Delaware's Nii Attoh-Okine recently published a new book with Cambridge University Press, "Resilience Engineering: Models and Analysis."
Reviresco June run
UD ROTC cadets will run from New York City to Miami this month to raise awareness about veterans' affairs.
The show features more than 100 pieces from the museum's collections, including huge wall maps, tiny pocket globes and maps printed on such objects as fans, handkerchiefs and jigsaw puzzles.
In an article published in County Lines magazine, Brückner says visitors to the exhibition will "see how men used maps at home and abroad; how women and children engaged with maps to foster family ties; and how maps became the social glue that would bind strangers into a community during times of change and development."
Brückner has published extensively on the relationship between cartography and early American culture. He is the author of The Geographic Revolution in Early America: Maps, Literacy and National Identity, which received the Louis Gottschalk Book Prize in 18th Century Studies.
For more about his work on maps, see the article in a recent issue of the UD Research magazine.
Photo by Evan Krape