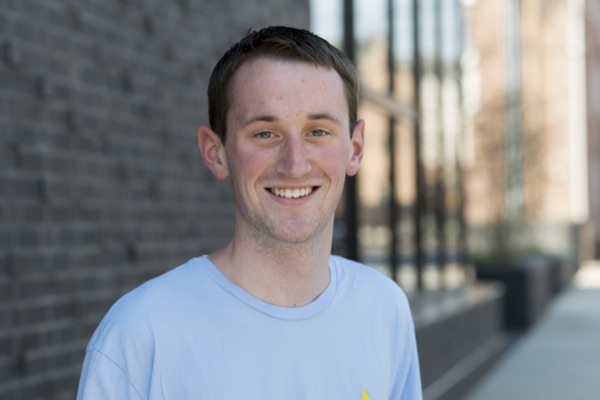 Truman Scholar
UD junior Ryan Leonard named a 2013 Truman Scholar
1:38 p.m., April 15, 2013--University of Delaware junior Ryan Leonard, a political science and history double major in the Honors Program, has been named a 2013 Truman Scholar. 
The Dover, Del., native is one of 63 new scholars selected from a pool of 629 national candidates for the federal scholarship, which provides $30,000 for graduate study and is awarded to juniors with demonstrated leadership potential and a strong commitment to public service. 
National Medal of Science
President Barack Obama recently presented the National Medal of Science to University of Delaware alumnus Rakesh Jain.
Warren Award
Rosalind Johnson, assistant dean for student success in the NUCLEUS Program in UD's College of Arts and Sciences, was presented the John Warren Excellence in Leadership and Service Award during a May 26 ceremony.
Leonard is the 12th University of Delaware student to win the award in the past 20 years, and the 18th Truman Scholar in the University's history. Junior Kevin Sun, an honors international relations and economics double major from Delaware, was a finalist for the 2013 scholarship.  
Leonard plans to use the award to pursue law school, with a lifelong goal of advocacy and improved education policy in the Middle East. 
This interest stemmed from his experience as president of the University's mock trial team and a sophomore year study abroad trip considering politics in Tunisia, during the height of the Arab Spring movement. There, he accompanied his host mother, a teacher, to school and began speaking to some of her students. 
That informal visit developed into his work in the Tunisian Access Program, run by the U.S. Embassy, in which Leonard presented classes to local students curious about his life and experiences in their country. He has since become a determined student of the Arabic language. 
"I hope to expand educational opportunities to citizens in the Middle East by working with teachers and educational staff within those countries to improve access," he says. 
Katharine Kerrane, senior associate director for the Honors Program, says Leonard's sincere interest in public service makes him an ideal recipient of the award. 
"He so fundamentally values education and believes in increasing access throughout the Middle East that this path is something he would take with or without the award," she adds. 
But Leonard credits Kerrane and fellow adviser Ray Peters, Writing Fellows Program coordinator, for helping him throughout his undergraduate career, stating they have been "invaluable to me and without their support, none of this would be possible."
He also thanked the Honors Program and director Michael Arnold for managing the scholarship process; his three recommenders, including political science associate professor Kenneth Campbell; and the 20-plus faculty members who assisted him with research and interview preparation, specifically English instructor Devon Miller-Duggan.
"I am incredible grateful to the University, and I hope to live up to the Truman tradition of public service," he says. 
About the Truman Scholarship
The Truman Scholarship Foundation was established by Congress in 1975 as the federal memorial to President Harry Truman. The Foundation awards scholarships for college students to attend graduate school in preparation for careers in government or elsewhere in public service.
Each new Truman Scholar receives up to $30,000 for graduate study. Scholars also receive priority admission and supplemental financial aid at some premier graduate institutions, leadership training, career and graduate school counseling, and special internship opportunities within the federal government. Recipients must be U.S. citizens, have outstanding leadership potential and communication skills, be in the top quarter of their class, and be committed to careers in government or the non-profit sector.
Article by Artika Casini
Photo by Evan Krape