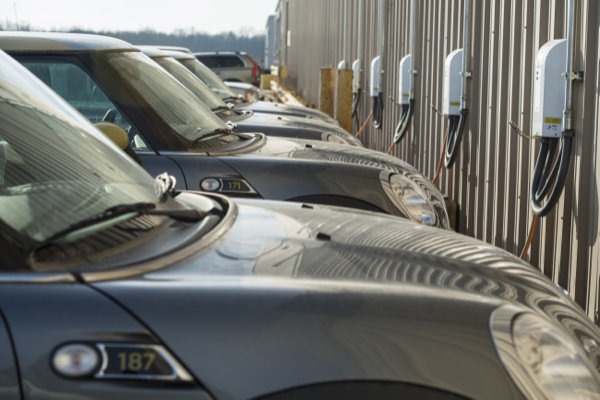 Powering up
Officials celebrate as electric vehicle-to-grid technology sells power to PJM power grid
1:19 p.m., April 26, 2013--Joined by government and industry leaders, the University of Delaware and NRG Energy celebrated an important milestone for their eV2g project on Friday, becoming an official resource of PJM Interconnection and proving for the first time that electric vehicle-to-grid technology can sell electricity from electric vehicles (EVs) to the power grid. 
Delaware Gov. Jack Markell and senior officials from the U.S. Department of Energy and the state were among those who participated in an event at UD's Science, Technology and Advanced Research (STAR) Campus to mark the achievements.
From graduates, faculty
As it neared time for the processional to open the University of Delaware Commencement ceremonies, graduating students and faculty members shared their feelings about what the event means to them.
Doctoral hooding
It was a day of triumph, cheers and collective relief as more than 160 students from 21 nations participated in the University of Delaware's Doctoral Hooding Convocation held Friday morning on The Green.
"Moving innovative ideas out of the classroom and into the marketplace is critical to growing our economy," said Markell. "The partnership between NRG and the University of Delaware perfectly illustrates the potential for research institutions to spur economic development."
The University and NRG began work in September 2011 to move from research results to prepare to commercialize the technology, which provides a two-way interface between EVs and the power grid that enables vehicle owners to sell electricity back to the grid while they are charging their EVs. 
On Feb. 27, the project took a big step forward when it became an official participant in the PJM's frequency regulation market. Frequency regulation is used to balance supply and demand on the grid second-by-second. Since then, the project has been selling power services from a fleet of EVs to PJM, a regional transmission organization that coordinates the movement of wholesale electricity and whose territory has 60 million people in the 13 Mid-Atlantic states. 
"This demonstrates that EVs can provide both mobility and stationary power while helping making the grid more resilient and ultimately generating revenue for electric vehicle owners," said Denise Wilson, NRG executive vice president, who leads the company's emerging businesses. "The advancement also proves the power of partnerships such as these to accelerate the development of clean energy technologies that will deliver for the economy, consumers, security and sustainability." 
UD President Patrick Harker echoed Wilson's praise of partnerships.
"Partnerships have been essential to the success of this initiative," said Harker. "I thank all of the industry and policy leaders who have come together around a project that incorporates clean transportation, stable energy and profitable sustainability. And I thank Prof. Willett Kempton and his fellow scientists for leading the way. It might be a few more years before a grid-integrated vehicle sits in every American driveway, but I'm excited to continue the journey."
Kempton is professor of marine policy in the College of Earth, Ocean, and Environment and director of UD's Center for Carbon-Free Power Integration.
A key aspect of the technology is that it can aggregate power from multiple electric vehicles to create one larger power resource, rather than individual, smaller ones. 
Additional company partnerships that make up the entire system shown include BMW AG providing the EVs, Milbank Manufacturing providing charging stations based on UD technology, AutoPort Inc. installing UD control technology into the EVs and others.
For grid operators, the technology serves as an innovative new approach to energy storage. It has the potential to balance the power provided by intermittent renewable resources such as wind and solar. Energy storage, such as large-scale batteries or those in a fleet of vehicles, can take the wind's power generated at night and store it to use when demand is higher. 
"PJM changed rules for participation in the regulation service market to decrease the minimum amount of power needed to participate and we implemented new rules that recognize and compensate faster, more accurately responding resources, such as batteries," said Michael J. Kormos, senior vice president of PJM Operations. "We knew that doing so would attract innovation and would find potential for energy storage or other technologies. We're glad to be a part of this project and hope that this inspires continued innovation among our partners and others in the industry."
The technology is expected to initially help managers of commercial EV fleets by providing revenue while the vehicles are parked, with individual EV owners to eventually follow. The system is currently in development with restricted test fleets and is not now a commercial offering.
Besides being one of the country's largest and most diverse power generators, NRG is innovating to make clean energy more accessible. This includes work to deploy large-scale renewable projects, smart meters and other demand-side management technologies, and EVs through its eVgo network of charging stations. 
UD has strong clean energy research and development programs and industry partnerships in solar energy, wind energy, fuel cells, biofuels and electric vehicles.
Photo by Evan Krape