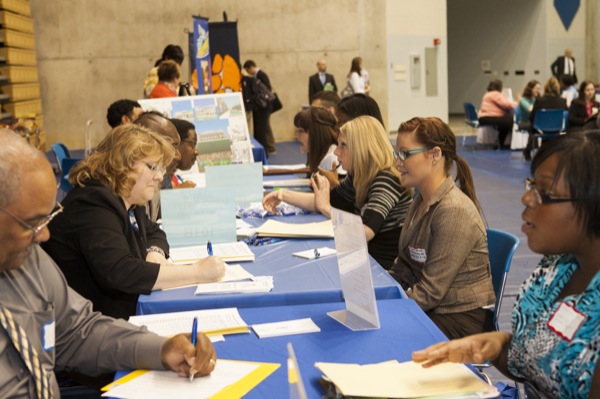 April 17: Teacher job fair
Career Services Center sponsors Project Search education fair
8:33 a.m., April 2, 2013--Soon-to-be graduates and alumni of the University of Delaware will have a day to meet with employers at the 35th annual Project Search Education Career Fair, set for Wednesday, April 17, at the Bob Carpenter Sports Center.
The event will bring about 200 recruiters from nearly 80 organizations to campus to meet and interview prospective teachers, counselors, administrators and specialists for fall 2013 vacancies.
June 5: Blue Hen 5K
University of Delaware graduates planning to attend Alumni Weekend are encouraged to register for the annual Blue Hen 5K walk and run, which will be held Sunday morning, June 5.
June 6-9: Food and culture series
The 20th annual June Lecture Series at the Osher Lifelong Learning Institute at UD in Wilmington will be held June 6-9. Titled 'June a la Carte,' this year's program focuses on great political documents, feminism, world politics and a Newark cuisine sampler.
For a video about Project Search, click here.
Project Search starts with UD student and alumni check-in beginning at 8 a.m.
From 8:30-9:45, attendees will have the chance to schedule interviews with employers who choose to conduct interviews on-site, with scheduled interviews to be held from 10 a.m.-6 p.m. Although there is no cost, all UD students and alumni must pre-register.
"As a senior elementary education major graduating this May," Natalie Rube explains, "I am looking forward to Project Search to help me jump-start my job search process. School districts from all over the region and surrounding states will be in attendance. This is a great opportunity provided by UD to help students network with different school districts, find out what positions are available, and even be interviewed for job openings." 
Participating employers include districts across Delaware, from Appoquinimink to Woodbridge, and regional school districts such as Montgomery County in Maryland and Princeton Regional Schools in New Jersey.
Also on hand will be representatives from Delaware Autism Program, the Delaware Department of Education, ESF Summer Camps in Pennsylvania, Kuumba Academy Charter School in Delaware and the Peace Corps.
Cindy Holland, assistant director of the UD Career Services Center, offered advice, saying, "We expect about 700 candidates to attend this year. To make yourself stand out, come prepared by perfecting your resume, honing your interview skills, and polishing your professional presentation. On our website, we have lots of tips about things like developing resumes and researching the organizations with which you hope to land a job."
Project Search is sponsored each year by the Career Services Center and the Delaware Council on Teacher Education.
Article by Christina Mason Johnston
Photo by Ambre Alexander