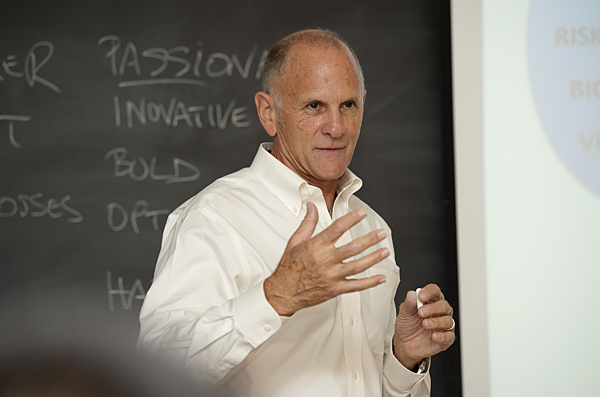 Power of the dream
Class gains insight into entrepreneurial spirit
2:28 p.m., Sept. 29, 2011--What qualities distinguish both entrepreneurs and leaders? "Passionate about their work," "persevering," "hard-working," and "innovative" are among the answers given by students in University of Delaware Prof. Norman Wagner's Leadership and Entrepreneurship Class (CHED 667) in the Department of Chemical Engineering on Sept. 28 — some of whom dream of being future CEOs. 
The poser of the question, Ricardo Levy, a California-based chemical engineer with three decades of experience founding and building some of the world's most successful companies, agreed with all of those answers. But, he pointed out, there is an important characteristic that differentiates the entrepreneur from a leader. 
'Resilience Engineering'
The University of Delaware's Nii Attoh-Okine recently published a new book with Cambridge University Press, "Resilience Engineering: Models and Analysis."
Reviresco June run
UD ROTC cadets will run from New York City to Miami this month to raise awareness about veterans' affairs.
"For the entrepreneur, the emotional investment is total — the dream takes over morning, noon and night. You reach a tipping point where nothing else matters," Levy said. 
In Levy's 2010 book, Letters to a Young Entrepreneur, he shares with wisdom and grace the experiences that enabled and inspired his personal journey, illuminating his path as an aid to tomorrow's rising CEOs, as well as "the entrepreneur forever young at heart." 
In 1974, Levy left his position at Exxon and co-founded his first entrepreneurial venture, Catalytica, a research and development firm serving the chemical, pharmaceutical and energy industries. The firm's discoveries resulted in over 100 patents and led to the formation of three companies, one of which became, under Levy's leadership, the largest supplier to the pharmaceutical industry in North America. 
When he left Exxon to start his first company, Levy said his family thought he was "insane." Then he began gathering good people around him who were "willing to throw in their lot." 
Along the way, Levy realized that he needed to employ a second set of skills that define an entrepreneur's persuasive capacity, including being a good storyteller and "dancer" (meaning having the ability to shift your attention easily to move forward), communicator and listener. He also needed to define his leadership character, with an emphasis on boldness (better yet "hutzpah"), sincerity and integrity.
"No matter what happens, it's your business," Levy said. "For some, it's exciting; for others, unnerving. There is no boss but yourself and you're stuck with the whole freakin' mess, which is what it can feel like at times."
Levy said that leading a successful business requires the ability to establish covenants with the people who work for you. As you value your staff, you build the fabric of your company. 
"The places where companies fail," he said, "is when leaders don't have enough of these inner-compass anchors."
During the question-and-answer period, the audience of students and faculty asked Levy about such issues as dealing with uncertainty, to handling failures. 
"You will have failures—I've had lots of them," Levy said. "That's a normal part of the experience, and you learn from them."
As for dealing with uncertainty, Levy said "an understanding wife," to whom he has been married for 47 years, has been critical, and he learned to meditate several years ago.
"It's very important for me to meditate for 20 minutes every day — it's become a part of me," he said. "I encourage all of you to give yourself that time of quiet and perspective."
And how much of being a successful entrepreneur is not related to psychology, but to the quality of the idea, the willingness of the marketplace and sheer luck?
"In order to get into a business, you or someone you know has to have put in the 10,000 hours. Whether it was Mozart or Bill Gates, they all put in their time," Levy said. "After that, I like to say that you 'dance,' you shift your attention and emphasis continually until you move forward and enter the 'luck lanes.'"
Born and raised in South America to a European immigrant family, Levy currently serves on several public and private corporate boards of directors and on the advisory board of the Santa Clara University Center for Science, Technology and Society. He received his master's degree from Princeton and his doctorate in chemical engineering from Stanford University.
Article by Tracey Bryant
Photo by Kathy F. Atkinson