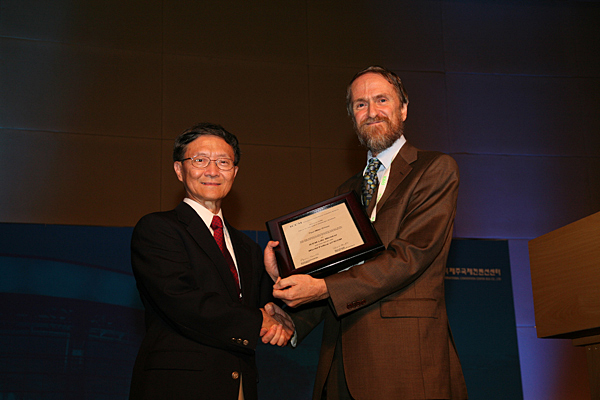 World Fellow
UD's Tsu-Wei Chou selected World Fellow of composites
1:32 p.m., Sept. 8, 2011--The University of Delaware's Tsu-Wei Chou, Pierre S. du Pont Chair of Engineering, was recently honored as a World Fellow of composites at the 18th International Conference on Composite Materials (ICCM).
ICCM, held bi-annually, is the largest international conference in the field of composites. The event, which was held Aug. 21-26 in Jeju, Korea, included nearly 1,600 delegates from 47 countries.
National Medal of Science
President Barack Obama recently presented the National Medal of Science to University of Delaware alumnus Rakesh Jain.
Warren Award
Rosalind Johnson, assistant dean for student success in the NUCLEUS Program in UD's College of Arts and Sciences, was presented the John Warren Excellence in Leadership and Service Award during a May 26 ceremony.
Since 2001, fewer than 20 ICCM members have been honored as World Fellows. Chou was named a life member of ICCM in 2009.
Well-known as an international composites expert, Chou delivered a plenary lecture, entitled "Carbon Nanotube Fibers: Challenges and Opportunities," during the conference. His presentation detailed an assessment of the potential of carbon nanotube fibers to reinforce multi-functional composites. 
Chou's own research on carbon nanotube fibers has focused on the characterization and modeling of their performance, as well as applications to multi-functional composites. 
The work is funded by the Air Force Office of Scientific Research and the Korean Foundation for International Cooperation of Science and Technology through the Global Research Laboratory program. Other contributors to this work from mechanical engineering include research associates Weibang Lu and Amanda Wu, who also presented at the conference; and Mei Zu, a visiting scholar conducting research in mechanical engineering and the Center for Composite Materials (CCM) from Tongji University in China.
"Prof. Chou's contributions in the field of composites reinforce the strength and worldwide recognition of the Department of Mechanical Engineering and the Center for Composite Materials," said Anette Karlsson, department chair in mechanical engineering. "The acknowledgement provided by the ICCM is a testimony to his exceptional dedication to research."
Chou is editor-in-chief of the international journal Composites Science and Technology which ranked No. 1 among the 23 composites journals in the materials science area in recent years. He has authored over 315 archival journal papers and book chapters, as well as several books.
He is also a fellow of six other professional societies: the American Society of Mechanical Engineers, American Society of Materials International, American Ceramic Society, American Society for Composites, the Minerals, Metals and Materials Society and American Institute of Aeronautics and Astronautics.
Article by Gabriella Chiera