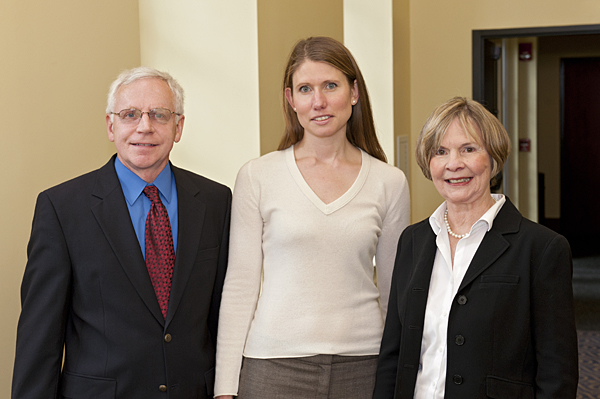 Knowing the Nobels
Faculty experts discuss Nobel Prize-winning work
8:14 a.m., Oct. 25, 2011--Metaphors marked the 5th annual symposium of University of Delaware faculty explaining the work done by the most recent Nobel Laureates, with the research in medicine compared to the defensive line of a football team, the work of the prize in chemistry similar to mosaic tiles and the prize in literature awarded to a renowned Swedish poet for his "condensed, translucent images [that create] fresh access to reality."
The first session of the two-part symposium, which will continue with three speakers on Friday, Oct. 28, was sponsored by the College of Arts and Sciences and included faculty experts who explained the work of this year's winners.
Chronic wounds
UD's Millicent Sullivan and Kristi Kiick have received a $1.4 million grant from the National Institutes of Health for research that could provide a new approach to the treatment of chronic wounds.
Prof. Heck's legacy
The American Chemical Society is highlighting the legacy of the late Nobel laureate Richard Heck, the Willis F. Harrington Professor Emeritus of Chemistry at the University of Delaware with a digital tribute on its publications website.
"This symposium is not simply a way to recognize a few people and ideas that earned a big prize, but it's part of a larger effort to facilitate discussion of emerging new ideas in all fields and share our knowledge about them across the University community," said George Watson, dean of the College of Arts and Sciences.
Physiology or medicine
Catherine Grimes, an assistant professor in chemistry and biochemistry, spoke on the work of the three laureates in physiology or medicine -- Bruce A. Beautler, Jules A. Hoffman and Ralph Steinman. She compared their research in innate and adaptive responses in the immune system to football players who must "identify, recognize and respond" to an attack. 
While the three laureates worked independently, their work informed each other, and Grimes explained how they discovered the ways in which the innate and adaptive phases of the immune responses are activated, thereby providing novel insights in disease mechanisms. 
"I thank them for providing us a whole new playbook on treating autoimmune diseases," said Grimes, whose own research uses the work of the laureates to examine how mammalian cells recognize and respond to the presence of a pathogen.
Chemistry
To explain the work of this year's Nobel Laureate in chemistry—a distinction previously earned by UD professor emeritus Richard Heck—Doug Buttrey, a professor in chemical engineering, discussed tiling patterns.
While 3-, 4- and 6-sided tiles can fill space in 2D with no gaps, he said, larger shapes cause gaps. 
With images from the famed artists M.C. Escher and photos of Indian and Middle Eastern mosaics, Buttrey explained the work of this year's laureate, Dan Shechtman, who uncovered how the fascinating world of patterns could be reproduced at the level of atoms.
Shechtman fought a fierce battle against established science with his discovery of quasicrystals, regular patterns that never repeat themselves exactly. 
Since their discovery, quasicrystals have been used in surgical instruments, LED lights and as insulators. 
Literature
English professor Jeanne Walker concluded the symposium with a discussion of Tomas Tranströmer, the Swedish writer, poet and translator who received this year's Nobel Prize in Literature.
Tranströmer, who has been a perennial favorite for the prize, was honored by the Nobel Committee for his "condensed, translucent images, [which] gives us fresh access to reality." 
Walker said he has "a strange genius for images" and called his language "simple and sparse, with staggering psychological depth," before reading selections of his work. 
Article by Artika Rangan
Photo by Evan Krape