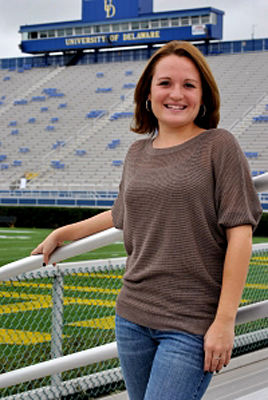 Special Olympics
UD student youngest to win Outstanding Volunteer Award
3:11 p.m., Oct. 14, 2011--Kylie Melvin has enjoyed volunteering for the Special Olympics since she was 11 years old.  Now a University of Delaware student in the College of Education and Human Development, she is the youngest person to receive the Outstanding Volunteer Award from Special Olympics Delaware. 
Melvin's passion for volunteering began after meeting Geoff, an athlete on the Newark Lightning Team that provides year-around sports opportunities for people with intellectual disabilities. 
National Medal of Science
President Barack Obama recently presented the National Medal of Science to University of Delaware alumnus Rakesh Jain.
Warren Award
Rosalind Johnson, assistant dean for student success in the NUCLEUS Program in UD's College of Arts and Sciences, was presented the John Warren Excellence in Leadership and Service Award during a May 26 ceremony.
"Ever since I met Geoff 10 years ago, volunteering with the Special Olympics is by far one of my favorite things to do. I always look forward to it, regardless of whether it's a practice, an event or weekly meeting," Melvin said.
On Oct. 6, Melvin attended the "Night of Heroes" awards ceremony and reception where she received her award for Outstanding Volunteer of the Year. At age 21 she is the youngest person to ever receive the honor.  
For the past 10 years, Special Olympics has played a large and important part in Melvin's life. When she first became involved with the Newark Lightning she acted as a unified partner to the athletes. A unified partner is a volunteer of approximately the same age, who helps their partners train and compete in various different team sports. As she got older, Melvin became a coach.
She is also member of the Delaware Youth Activation Committee, helping to promote Project Unify, a national program used to create school communities that are accepting and respectful of people with disabilities.  She helps to plan and lead the conferences and events needed for this program throughout the year.
Not only does Melvin work with the program year-around, she made sure that she kept participating when she left for college.  "Special Olympics is an absolutely amazing organization," she said. "I promise anyone that gets involved; it will be one of the most rewarding experiences you're ever going to experience. I guarantee it will change your life and create ever lasting friendships."
Article by Brittany Brown