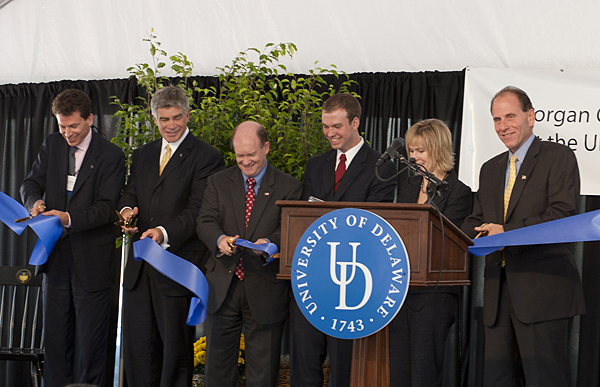 New home for innovation
JPMorgan Chase Innovation Center opens at UD
12:20 p.m., Oct. 17, 2011--The University of Delaware and JPMorgan Chase celebrated the grand opening on Friday, Oct. 14, of the JPMorgan Chase Innovation Center at UD -- an on-campus facility where UD faculty, UD students and JPMorgan Chase employees will work side-by-side on joint applied research projects.  The Innovation Center will also provide on-campus job opportunities for UD students. 
UD President Pat Harker, JPMorgan Chase Chief Information Officer Guy Chiarello, Delaware Lt. Gov. Matthew Denn and U.S. Sen. Chris Coons were among those who cut the ceremonial ribbon to officially open the facility.  
Chronic wounds
UD's Millicent Sullivan and Kristi Kiick have received a $1.4 million grant from the National Institutes of Health for research that could provide a new approach to the treatment of chronic wounds.
Prof. Heck's legacy
The American Chemical Society is highlighting the legacy of the late Nobel laureate Richard Heck, the Willis F. Harrington Professor Emeritus of Chemistry at the University of Delaware with a digital tribute on its publications website.
The Innovation Center was built as part of the strategic JPMorgan Chase-University of Delaware collaboration established in December 2009 focused on building a pipeline of technology talent through University curriculum, enriching internships and joint research projects to drive innovation. 
Through the collaboration, a new Global Enterprise Technology (GET) curriculum and minor were established at UD, which will transform the way technologists are trained.  JPMorgan Chase technologists enhance the curriculum via guest lectures and collaborate on joint applied research projects with UD's new Institute for Business Analytics. The institute will focus on the analysis and optimization of processes that occur in the field of financial services.  JPMorgan Chase committed $5 million in support of collaboration activities and is the industry founder of the institute.
"This collaboration with JPMorgan Chase is important for two reasons: Delaware needs a workforce well qualified for today's complex technology jobs, and students need the skills to enter those jobs ready to succeed," Harker said. "Students will be able to strengthen their technology skills through the GET curriculum, through new experiential learning opportunities and through year-round internships at the Innovation Center." 
"This is as an investment in the University, in the Delaware community and in our bank," Chiarello said. "We are working side-by-side with the University to change the way technology students are trained, making them well prepared to enter the workforce after graduation.  We are committed to increasing the work experience opportunities for UD students at the Innovation Center as well as our Wilmington and Christiana Center facilities." 
After the ribbon cutting, participants toured the Innovation Center. Chiarello also presented a program on the topic of "Technology Innovation" in the atrium of Lerner Hall.
About JPMorgan Chase
JPMorgan Chase & Co. (NYSE: JPM) is a leading global financial services firm with assets of $2.2 trillion and operations in more than 60 countries. The firm is a leader in investment banking, financial services for consumers, small business and commercial banking, financial transaction processing, asset management and private equity. A component of the Dow Jones Industrial Average, JPMorgan Chase & Co. serves millions of consumers in the United States and many of the world's most prominent corporate, institutional and government clients under its J.P. Morgan and Chase brands. 
Photo by Kathy F. Atkinson