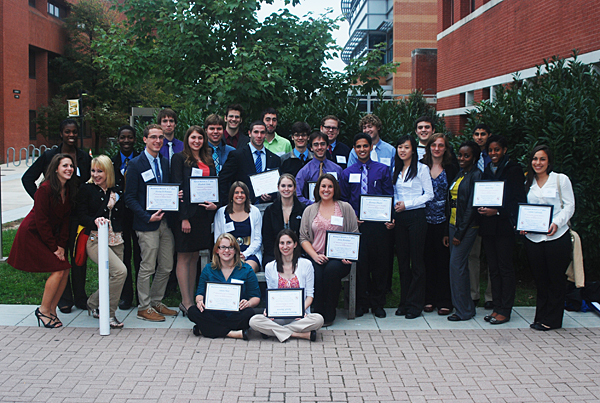 Excelling students
UD STEM students excel at regional research conference
4:54 p.m., Oct. 25, 2011--The University of Delaware was well represented at the 14th annual Undergraduate Research Symposium in the Chemical and Biological Sciences, held Saturday, Oct. 22, at the University of Maryland, Baltimore County. 
More than 200 students from 40 schools competed for awards in 35 judging groups at the symposium. UD students received first-place awards in 11 groups, more than half of the groups in which they competed. 
Chronic wounds
UD's Millicent Sullivan and Kristi Kiick have received a $1.4 million grant from the National Institutes of Health for research that could provide a new approach to the treatment of chronic wounds.
Prof. Heck's legacy
The American Chemical Society is highlighting the legacy of the late Nobel laureate Richard Heck, the Willis F. Harrington Professor Emeritus of Chemistry at the University of Delaware with a digital tribute on its publications website.
Of the 28 UD students who presented research posters at the symposium, 11 received first-place awards, and three students received second-place awards. 
First-place winners, their categories and faculty supervisors are
• Hamza Bhatti, Biology Group 3b, Deni Galilieo;
• Erica Boetefuer, Biology Group 1a, Erica Selva;
• Michael Brister, Biochemistry Group 3a, Neal Zondlo;
• Nicholas Di Domizio, Biochemistry Group 2b, Anne Robinson;
• Michael Ghidiu, Chemistry Group 7a, Joel Rosenthal;
• Lyanna Labrata, Biology Group 5a, Kenneth van Golen;
• Dylan Lowe, Biology Group 2b, Catharine Kirn-Safran;
• Ashley Shay, Molecular Biology Group 1b, Vicky Funanage;
• Sarah Stamm, Biology Group 6a, Diane Herson; 
• Justin Teesdale, Chemistry Group 3a, Joel Rosenthal; and
• Josh Wallace, Biology Group 3a, Kathleen Schell and William Rose. 
Awarded second place were 
• Elizabeth Glinka, Biochemistry 1a, Brian Bahnson;
• Alexia Hay, Biology Group 4b, Lynn Synder-Mackler; and 
• Kara Martin, Chemistry Group 1b, Neal Zondlo.
Also presenting at the symposium were
• Joanna Adadevoh, Chemical Engineering, Babatunde Ogunnaike;
• Nicholas Audette, Biochemistry, Tatyana Polenova;
• Alex D'Angelo, Biology, Anja Nohe;
• Michelle Francis, Medical Technology, Mary Ann McLane
• Timothy Gilpatrick, Biochemistry, Brian Bahnson;
• Lauren Gurski, Biology, Anja Nohe;
• Keywan Johnson, Chemistry, Don Watson;
• Alicia Liu, Biology, Erica Selva;
• Zachary March, Chemical Engineering, David Colby;
• Allison McCague, Biology, Erica Selva;
• Rohan Patel, Quantitative Biology, Edward Lyman;
• Monica Pirigyi, Biochemistry, Neal Zondlo;
• Victoria Roop, Biology, Melinda Duncan; and
• Christopher Wright, Biochemistry, Pamela Green. 
Accompanying the students to the symposium was Hal White, professor of chemistry and biochemistry and director of the UD Howard Hughes Medical Institute's Undergraduate Science Education Program, which sponsored the trip.