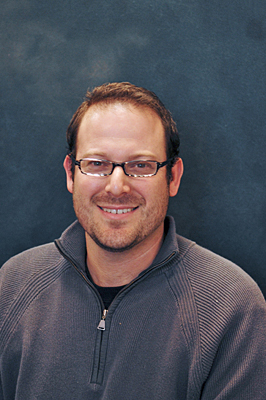 King corn
UD's Wisser receives USDA grant to study genetic barriers in corn
1:40 p.m., Nov. 15, 2011--When it comes to crops in the U.S., corn is king. Just because it is king, however, does not mean that breeders and in turn growers are using corn to its fullest potential.
With this in mind, the University of Delaware's Randall Wisser and a group of six fellow researchers have received a five-year $4.2 million grant from the U.S. Department of Agriculture's National Institute of Food and Agriculture (USDA-NIFA) to study the genetics of adaptation and crop improvement.
Chronic wounds
UD's Millicent Sullivan and Kristi Kiick have received a $1.4 million grant from the National Institutes of Health for research that could provide a new approach to the treatment of chronic wounds.
Prof. Heck's legacy
The American Chemical Society is highlighting the legacy of the late Nobel laureate Richard Heck, the Willis F. Harrington Professor Emeritus of Chemistry at the University of Delaware with a digital tribute on its publications website.
Wisser, assistant professor in the Department of Plant and Soil Sciences, said that "there is a great deal of diversity in corn, or maize, particularly in the tropics, which has generally been underutilized in the U.S." This is because tropical sources of maize are unadapted to North American environments.
Wisser added, "It is virtually impossible to realize the potential breeding value of maladapted materials; finding ways to efficiently adapt crops to new environments is a frontier of agricultural genetics research."
Populations that lack genetic diversity can fall prey to climate change or other stressors by not having an array of genes on which to draw from. Breeding-based solutions to addressing abiotic and biotic challenges require access to genetic diversity. "If you're drawing from a limited sample of diversity, the likelihood that you've got the necessary genes is less," Wisser said.
Through its research, the team aims to help plant breeders increase breeding efficiency and access more genetic diversity, increasing their capability of responding to current and future challenges in food production.
Wide-ranging study
The research team is conducting a range of studies that combine field and controlled environment testing with genome sequence analysis and analytics.
In one avenue of research, they are working to better understand the genetics underlying how environment variables such as temperature and day lengths influence plant maturity, a primary barrier to adaptation.
When tropical maize is grown in a North American environment, like Delaware, where summer day lengths can reach up to 15 hours (compared to 10-12 hour days in the tropics), the plants are not receiving the appropriate signals that tell them to flower. They just keep growing, getting very tall and producing lots of leaves, flowering very late or not at all. The plants are out of synch with the growing season and get damaged by frosts or produce no seeds.
Maize that now grows in the U.S. has been adapted over hundreds of years with increasing selection intensities.  Through many generations of breeding, an elite pool of maize plants have been developed for North American farmers that are insensitive to long days and flourish in these climates. 
"In the process of intense selection, there's been a big loss in potentially valuable genetic diversity," Wisser said. "We are thinking about ways to recoup some of what has been lost to help deal with the complex problems of the future"
In another study of the project, the team will test if there are common regions in which the corn genome is associated with broad environmental adaptation or in which genetic barriers are created.
The group will track the flow of genes across generations of selection in the same tropical population adapted to a broad range of environments from Wisconsin to Puerto Rico.
"If adaptation is achieved through one or a few genetic tracks, then existing methods can be used to more quickly adapt tropical maize to different environments," Wisser said. "If, on the other hand, there are multiple independent genetic tracks to adaptation then a different set of solutions will be needed."
Wisser said he is hopeful that by studying the adaptation process researchers can pinpoint the barriers that limit use of tropical genetic diversity for North American maize improvement and "open the flood gates" for accessing maize diversity.
The research team
Other investigators in the study are Sherry Flint-Garcia from the USDA-Agricultural Research Services (ARS) and University of Missouri; James B. Holland from the USDA-ARS and North Carolina State University; Nick Lauter from the USDA-ARS and Iowa State University; Natalia deLeon from the University of Wisconsin-Madison; and Seth Murray and Wenwei Xu from Texas A&M University.
Further information about the Maize ATLAS (Adaptation Through Latitudinal Artificial Selection) project can be found at this website. 
The study is funded by the USDA Climate Change Mitigation and Adaptation in Agriculture program, which also funded research by Carl Schmidt, associate professor of animal and food sciences and biological sciences at the University of Delaware, concerning heat stress in poultry. For more on that story, see the earlier UDaily article. 
Article by Adam Thomas
Photo by Danielle Quigley