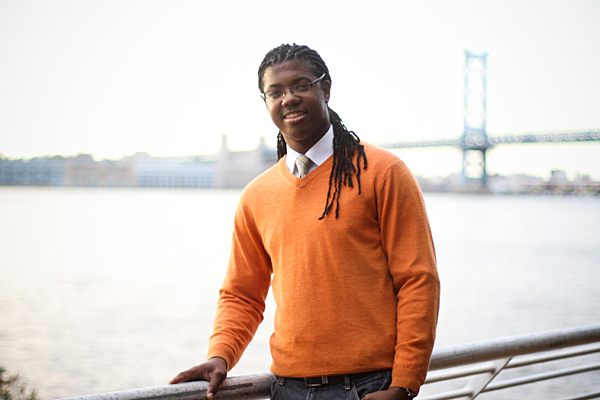 Grad student honored
UD doctoral student recognized for work in Camden, N.J.
10:44 a.m., Nov. 23, 2011--A University of Delaware doctoral student, Atnreakn Alleyne, has been awarded a first-place prize of $2,500 from the "Be Big In Your Community" contest sponsored by the publisher Scholastic for his work with teenagers in Camden, N.J.
More than 1,000 entries were submitted for this 2011 national contest aimed at rewarding acts of kindness in the spirit of Clifford, the big red dog character. The contest invited participants to submit a big idea that demonstrates Clifford's Big Ideas -- share, help others, be kind, be responsible, play fair, be a good friend, believe in yourself, have respect, work together and be truthful -- for a chance to win a grant to be used toward implementing the winning proposals.
National Medal of Science
President Barack Obama recently presented the National Medal of Science to University of Delaware alumnus Rakesh Jain.
Warren Award
Rosalind Johnson, assistant dean for student success in the NUCLEUS Program in UD's College of Arts and Sciences, was presented the John Warren Excellence in Leadership and Service Award during a May 26 ceremony.
Alleyne, a resident of Camden who is studying in the Department of Political Science and International Relations, and his team plan to work with generationOn to promote college awareness, college readiness and high academic achievement in high schools through TeenSHARP college prep clubs.
"We're honored to have the support of Scholastic for our project," said Alleyne. "Being selected really confirms the importance of the work that we're doing."
Alleyne and his wife founded TeenSHARP in 2009. It is a college prep and leadership program that helps to address the disparities in education that persist in society. The goal of the TeenSHARP college prep clubs is to create a student-led movement to promote higher education in the schools that lack a "college going culture."
Alleyne learned about Scholastic's contest when he was searching the web for new opportunities for his students. He felt the TeenSHARP college prep clubs fit Clifford's Big Ideas and, with TeenSHARP funded largely out of pocket, he saw the contest as a great opportunity for additional resources.
The grant money will help Alleyne to launch clubs in high schools in Philadelphia and Camden, where student leaders will be able to promote college and increase the level of interest in pursuing higher education among their peers.
Article by Ashley Scotti
Photo by Rut Photography