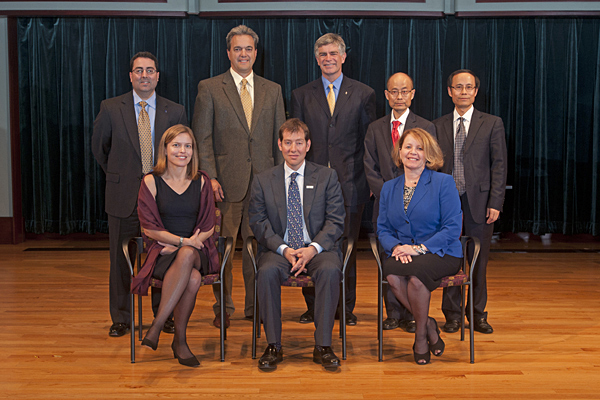 Alumni cited
University honors 2011 Presidential Citation recipients
9:39 a.m., Nov. 15, 2011--Eight University of Delaware alumni were honored as recipients of the Presidential Citation for Outstanding Achievement during a ceremony held Friday afternoon, Nov. 11, in the Roselle Center for the Arts, as part of Homecoming Weekend festivities.
UD President Patrick Harker -- who was introduced by Cindy Campanella, director of alumni relations -- welcomed the honorees and their guests and noted that all seven colleges at the University were represented among the Presidential Citation recipients.
National Medal of Science
President Barack Obama recently presented the National Medal of Science to University of Delaware alumnus Rakesh Jain.
Warren Award
Rosalind Johnson, assistant dean for student success in the NUCLEUS Program in UD's College of Arts and Sciences, was presented the John Warren Excellence in Leadership and Service Award during a May 26 ceremony.
"These distinguished alumni join a small fraternity of 219 members among 155,000 Blue Hens across the country and around the world," Harker said. "The award was conceived to recognize extraordinary achievement and dedicated service, and when the two coexist, we think it's worthy of a Presidential Citation." 
He said the honorees serve as role models, showing UD students that good things can result by complementing talent with hard work, discipline, passion and perseverance.
"I know the lives of students have been influenced, even changed, by yours," Harker said. "If all of our alums gave back as you have, and if every Blue Hen thought 'UD first' as you do, we'd be absolutely unstoppable."
The 2011 honorees are:
Joseph Claricurzio, a 1990 graduate with a bachelor's degee in business administration who serves as a senior vice president at Bank of America.
A Ronald McDonald House of Delaware board member, Claricurzio said he learned to balance academic and work responsibilities while a student at UD. 
"I learned how to best balance the critical personal interactions of being a responsible roommate, a focused classmate and a reliable employee," Claricurzio said. "The University is pretty special in my life and the lives of everyone in my immediate family."
Katherine Hutchinson, who earned a master's degree in maternal-child nursing in 1986 and a doctorate in family studies in 1994, is associate professor in the New York University College of Nursing. Serving as principal and co-investigator on numerous National Institutes for Health-funded HIV risk-reduction studies in the United States and abroad, Hutchinson also has developed instruments and models for family-based HIV risk reduction interventions. 
Inducted into the American Academy of Nursing in 2008, Hutchinson said that her student experience at UD taught her to reconsider what was really possible to accomplish as a student and a professional.  
"I had never considered doctoral study or a research career until I met Mary Ann Miller and Amy Hecht in UD nursing. They were instrumental in changing my way of thinking," Hutchinson said. "I owe a lot to UD, including the mentorship and other things that I received from the UD faculty."
John Knarr, who received a bachelor's degree in physical education in 1977, a master's in physical education in 1981 and a bachelor's degree in physical therapy in 1990, is owner and physical therapist with Elite Physical Therapy in Reboboth Beach, Del. Knarr also was founding director of the UD Physical Therapy clinic.
Besides providing many fond memories, Knarr said UD prepared him with a good foundation for career success.
"The interactions with faculty and staff, both as a student and later as a professional, were very helpful in guiding my career and helping me set personal and professional goals," Knarr said. "The blending of all these has created a successful journey for me." 
Maggie Leffler Martin, a 1994 graduate with a bachelor's degree in English and a minor in biology, is a family physician and writer. Martin is the author of The Diagnosis of Love (2007) and The Goodbye Cousins (2009), both published by Bantam Books, and is working on her third novel. 
She is the recipient of a certificate of recognition from the American Diabetes Association and the National Committee for Quality Assurance for delivery of quality diabetes care.
Martin said that two professors in the Department of English helped provide the perfect foundation for careers in writing and medicine. "In American literature, John Jebb challenged us to write one-page papers, which taught us to be precise with language and to quickly get to the point," Martin said. "When Bernard Kaplan heard that I wanted to be a doctor and a novelist, he gave me a list of physician-writers, which inspired me to pursue both of my dreams." 
Andrew Schwartz, who earned his bachelor's degree in agricultural business management in 1993, is president of Rosemont Farms Co. in Florida. Under his leadership, the company has become one of the East Coast's largest vegetable growers, shippers and distributors. A loyal UD alumnus, he has opened his Florida home for regional events to connect with UD alumni.
Schwartz said that the skills he developed to succeed at UD also had a considerable effect on his personal life and career. 
"I met the love of my life, Rachel, at UD during my sophomore year," Schwartz said. "I thank my parents for providing me with the opportunity to attend UD, and for the University for honoring me."
Sean Wang, who received a doctoral degree in electrical engineering in 1992, is chief executive officer of B&W Tek, a leading photonics company producing analytical instrumentation, medical systems and lasers. Wang also co-founded and serves as chairman of the boards of Delaware companies BWTEK Lighting and Litecure.
Gonzalo Arce, the Charles Black Evans Professor of Electrical and Computer Engineering, accepted the award on behalf of Wang, who was unable to attend the awards ceremony.
Ming Xu, who received a master's degree in marine policy in 1993, serves as a marine transportation specialist with Geodis Wilson. Xu continues to enrich the lives of members of the Chinese community in Delaware and New Jersey, and he also has served as longtime adviser to UD's Chinese Students and Scholars Association and the UD Dragonfly Dance Club.
Ming said that he and his brother Ping, also honored at the ceremony, received great help when they arrived at UD in during the 1988-89 academic year. 
"We thank UD and the members of the local Chinese community," Xu said. "We will continue to try our very best to make this community a better place to live and study."
Ping Xu, who received master's degrees from UD in marine policy in 1994 and in business administration in 1999, is a real estate agent with RE/MAX Sunvest. A certified financial planner and charted life underwriter, Xu also is a certified state court interpreter who has been known to offer his services pro bono to Mandarin speakers in need.
Ping expressed his gratitude to Lee Anderson, Maxwell P. and Mildred H. Harrington Professor of Marine Science and Policy in the College of Earth, Ocean, and Environment, and to the UD and Chinese communities for their support and encouragement upon getting started at a new school in a new country.
"When I was sick and needed a kidney transplant, the UD community came out to help me," Xu said. "I also want to thank my parents for bringing me up. It is only through God's grace that I was able to come here. I just want to thank everyone for helping my brother and me."
The ceremony concluded with a reception for the honorees and their guests in the lobby of the Roselle Center for the Arts.
Article by Jerry Rhodes
Photo by Duane Perry