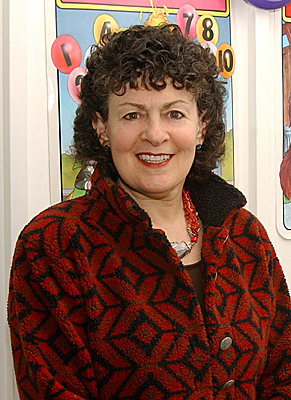 Nov. 30: Alison Lecture
Roberta Golinkoff to deliver 2011 Alison Lecture to University community
2:54 p.m., Nov. 16, 2011--Roberta Golinkoff, the H. Rodney Sharp Chair in the School of Education, will present her Francis Alison Inaugural Lecture, "What Have You Discovered Lately? Forays in Development and Translational Science," at 4 p.m., Wednesday, Nov. 30, at the Roselle Center for the Arts.
Golinkoff is internationally renowned for her research on language development in infants. 
June 5: Blue Hen 5K
University of Delaware graduates planning to attend Alumni Weekend are encouraged to register for the annual Blue Hen 5K walk and run, which will be held Sunday morning, June 5.
June 6-9: Food and culture series
The 20th annual June Lecture Series at the Osher Lifelong Learning Institute at UD in Wilmington will be held June 6-9. Titled 'June a la Carte,' this year's program focuses on great political documents, feminism, world politics and a Newark cuisine sampler.
Early in her 36-year career at Delaware, she developed a method to assess language comprehension in babies who do not yet speak. Her Intermodal Preferential Looking Paradigm (IPLP) "tricks" babies to reveal their knowledge of language. Because of her research, it is now known that infants do not sit passively while words wash over them; instead they are actively analyzing what they hear and extracting language's rules and regularities.
Letters from Golinkoff's scholarly peers underscore the importance of her work. She has been in "the forefront" of her field, and as a result "altered our understanding of how children learn language and develop thought."
Yale University's Edward Zigler, the driving force behind Head Start in the 1960s, said that he "would be hard pressed to name a scholar that I admire more than Roberta."
Golinkoff was named the recipient of the 2011 Francis Alison Faculty Award in May. The University's highest faculty honor, the Alison Award was established in 1978 by the Board of Trustees and is bestowed annually on the faculty member who best characterizes "the scholar-schoolmaster," as exemplified by the Rev. Dr. Francis Alison, who in 1743, founded the institution that is now the University of Delaware. His first class of students became distinguished statesmen, doctors, merchants, and scholars. Three signed the Declaration of Independence and one the U.S. Constitution. 
A reception will follow Golinkoff's lecture. Please respond to provost-office@udel.edu by Friday, Nov. 25, if you plan to attend.