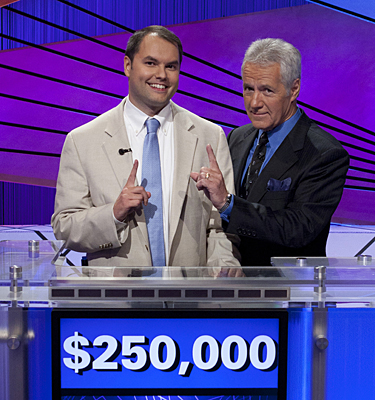 'Jeopardy!' champion
UD alum Roger Craig wins 'Jeopardy!' Tournament of Champions
7:30 p.m., Nov. 15, 2011--University of Delaware alumnus Roger Craig has won the prestigious Jeopardy! Tournament of Champions, taking home $250,000 in cash winnings. Craig earned the crown Nov. 15 after outscoring 14 other top Jeopardy! champions from recent seasons.
"It feels incredibly special to win the Tournament of Champions, especially since it's a marquee event for Jeopardy!" Craig said. "It's amazing to win $250,000. I probably shouldn't admit this, but I'd play the game for free!"
'Resilience Engineering'
The University of Delaware's Nii Attoh-Okine recently published a new book with Cambridge University Press, "Resilience Engineering: Models and Analysis."
Reviresco June run
UD ROTC cadets will run from New York City to Miami this month to raise awareness about veterans' affairs.
Craig, 35, a computer scientist from Newark, Del., prepared for the tournament by brushing up on a variety of subjects, such as geography, Oscar-winning films and Shakespeare.
However, he said he believes that his education from Virginia Tech and the University of Delaware helped him the most. 
"Let's face it, for Jeopardy!, the name of the game is breadth not depth. I think the main reason both universities helped so much is that they cover just about all spheres of learning in extraordinary depth."
Craig earned his doctorate in computer and information sciences at UD last fall.
He said he plans to save most of the money he earned as well as travel more. "I'm also going to donate to charity and my alma maters," he added.
Craig first appeared on Jeopardy! in September 2010, amassing $230,200 as a six-day champion. During his original run, Craig established a new record for the highest one-day total winnings, $77,000, eclipsing the previous record of $75,000 set in 2004 by Jeopardy! legend Ken Jennings. 
Craig admits that his life has changed since first appearing on the show. "Strangers now recognize me, especially when my games are airing," he said. "I just wanted to play 'Jeopardy!' and appearing on television was almost an afterthought. I was a little naïve about the power of television when I first was on."
Craig competed in the two-day final competition against Tom Nissley, a writer from Seattle, Wash., and Buddy Wright, an operations engineer from Fort Worth, Texas. Nissley placed second in the tournament, winning $100,000, and Wright finished third, pocketing $50,000. The six players eliminated in the semifinals each took home $10,000; players eliminated in the first round received $5,000.
Jeopardy!, the winner of 29 Emmy awards, including the 2011 Emmy for Outstanding Game/Audience Participation Program, was inducted into the Guinness Book of World Records for the most awards won by a TV Game Show. The series is the #1-rated quiz show in syndication with nearly 9 million daily viewers.
Jeopardy! is produced by Sony Pictures Television, a Sony Pictures Entertainment Company. It is distributed domestically by CBS Television Distribution and internationally by CBS Television International, both units of CBS Corp. 
Photo courtesy of Jeopardy Productions Inc.