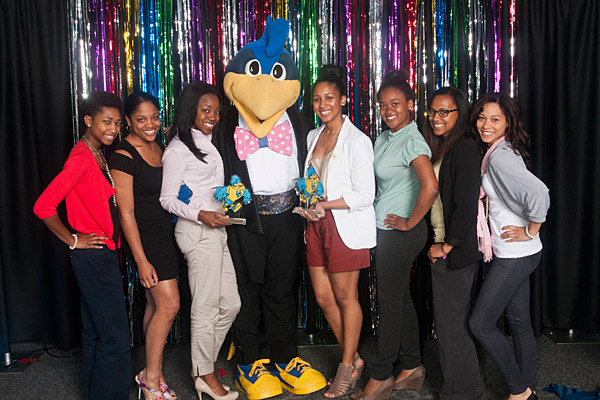 YoUDee Awards
University Student Centers hosts 10th annual YoUDee Awards ceremony
10:23 a.m., May 21, 2012--The University Student Centers (USC) celebrated 10 years of YoUDee Awards on Wednesday, May 9. 
USC has recognized outstanding leadership in student organizations for many years, but only in 2003 did the annual ceremony earn its current title -- the YoUDee Leadership Awards. 
National Medal of Science
President Barack Obama recently presented the National Medal of Science to University of Delaware alumnus Rakesh Jain.
Warren Award
Rosalind Johnson, assistant dean for student success in the NUCLEUS Program in UD's College of Arts and Sciences, was presented the John Warren Excellence in Leadership and Service Award during a May 26 ceremony.
Since then, hundreds of statuettes bearing the likeness of the University's popular mascot YoUDee have been awarded to outstanding leaders, organizations, programs and events.
A photo slideshow of this year's event is available online.
The 2012 YoUDee Award recipients are:
Bernie Coslar Service Award: Lou Hirsh
Grossman Memorial Award: Ashley Paintsill and Eric Oppenheimer
Outstanding Adviser: Phil Wescott, Delta Tau Delta
Greek Photo: Alpha Phi
Greek Flyer: Lambda Theta Alpha
RSO Photo: Outing Club
RSO Flyer: Black Student Union
Greek Website: Chi Omega
Greek Social Media: Alpha Delta Pi
RSO Overall Achievement: Students for the Environment
RSO Website: Vocal Point
RSO Social Media: Student Centers Programming Advisory Board (SCPAB)
Greek Community Service: Alpha Delta Pi
RSO Community Service: Alpha Phi Omega (A Greek lettered RSO)
Greek Philanthropy (Chapter): Alpha Phi
Greek Philanthropy (Community): Kappa Sigma and Kappa Delta Rho
RSO Philanthropy: UDance
New RSO: Humans vs. Zombies
RSO Field Day Winner: Students for Haiti
RSO Olympics Winner: Computer Animation and Game Design Club
Academic Achievement: 
Panhellenic -- Alpha Delta Pi
IFC -- Alpha Epsilon Pi
NPHC -- Alpha Kappa Alpha
NALFO -- Lambda Pi Chi
Special Interest -- Alpha Zeta
Greek Community Program: Lambda Sigma Upsilon for Study Sessions
Greek Educational Program: Delta Sigma Theta and Zeta Phi Beta for Understanding the Unknown: Child Prostitution
Dare to Be First Program: Deltronica for Bass Campus
RSO Co-Sponsored Program: National Society of Black Engineers and Phi Beta Sigma for Show and Tell
Global Community Program: Hola for Fiesta Latina
Spirit (Large Scale) Program: SCPAB for Adult Swim
Citizen University Program: Black Student Union for Trayvon Martin Awareness Event
Discovery Learning Program (Education): Emergency Care Unit for FYE Seminars
Idea Leadership Program (Lecture): Haven and HTAC for Anthony Rapp
Annual Event: Cultural Programming Advisory Board (CPAB) for Annual Block Party
BHLP Senior Male Leader: Dustin Ramsdell
BHLP Senior Female Leader: Lauren Kanaskie
BHLP Model the Way Award: Zachary Sidrane
Greek Treasurer: Sterling Vaughn of Alpha Phi Alpha
RSO Treasurer: Alexandra Conway of Black Student Union and Dan Skehan of SCPAB
Greek Chapter Female Leader: Erin Collins of Alpha Omega Epsilon
Greek Council Female Leader: Jen Ortiz of NALFO
Greek Chapter Male Leader: Emanuel Chacon of Lambda Sigma Upsilon
Greek Council Male Leader: Gabriel Mendez of IFC
RSO Delaware Female Leader: Maria Marquez of Hola
RSO Overall Female Leader: Kelli Shermeyer of E-52 Student Theatre
RSO Delaware Male Leader: Matt Coogan of Haven
RSO Overall Male Leader: Dan Reyes of Students for Haiti
Chapters of the Year:
IFC -- Sigma Phi Epsilon
NALFO --Lambda Sigma Upsilon
NPHC -- Alpha Kappa Alpha
Panhellenic -- Alpha Delta Pi
Special Interest --Alpha Omega Epsilon
Past YoUDee Award recipients can be found at the Leadership Awards website.
Article by Casey Impagliazzo
Photos by Duane Perry