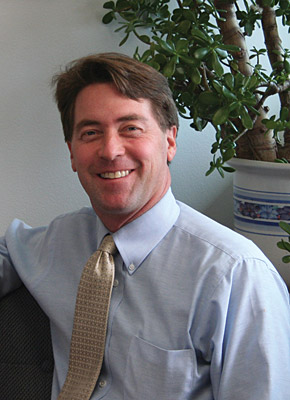 New CANR dean
Rieger named dean of College of Agriculture and Natural Resources
4 p.m., May 31, 2012--Mark Rieger of the University of Florida has been named dean of the University of Delaware's College of Agriculture and Natural Resources (CANR) following a nationwide search.
Rieger, who will take office Aug. 1, has served as associate dean of the University of Florida's College of Agricultural and Life Sciences since 2006.
'Resilience Engineering'
The University of Delaware's Nii Attoh-Okine recently published a new book with Cambridge University Press, "Resilience Engineering: Models and Analysis."
Reviresco June run
UD ROTC cadets will run from New York City to Miami this month to raise awareness about veterans' affairs.
He succeeds Robin Morgan, who served as dean of CANR for a decade. Morgan announced in September 2011 that she planned to step down as dean and return to the CANR faculty at the conclusion of the 2011-12 academic year.
"We're thrilled to welcome Mark Rieger to the University of Delaware," UD President Patrick Harker said. "He brings with him the kind of clear vision and commitment to innovation that CANR has enjoyed this last decade under Robin Morgan. Agriculture is such a rich and vital industry in Delaware, and the college has a huge role to play in addressing some of today's most critical issues: environmental protection, renewable energy, human health, food sustainability, global responsibility. I look forward to our continued leadership and influence in these areas with Mark as CANR dean."
"Mark was warmly received by all the constituents with whom he met during the interview process. This includes faculty, professionals, administrators, students, and partners throughout the state," said Nancy Brickhouse, deputy provost. "They were impressed by his knowledge of the agricultural industry as well as his commitment to strong academic values. The role of CANR dean is a complex one and I am convinced we have found the right person to step into this position."
"The search committee is pleased that Mark Rieger will be the next dean," said Charles G. Riordan, UD vice provost for graduate and professional education and chair of the search committee. "Mark articulated a strong and dynamic vision for a contemporary College of Agriculture and Natural Resources. He brings experience and creative ideas about how to build connections across campus, the state and the entire Delmarva region that will serve the college well."
"I am absolutely delighted to have been offered the position. From the airport interview onward, the position felt like the right fit, and I am honored to have received such strong support," Rieger said. "It will be a pleasure to work for such talented faculty, staff and students as one finds in the CANR."
About Mark Rieger
Mark Rieger has served as associate dean and professor in the University of Florida's College of Agricultural and Life Sciences since 2006 and was interim dean in 2010-11.
As associate dean, Rieger had major responsibilities in graduate programs, distance education, statewide degree completion programs, the honors program and international education.
Prior to joining the University of Florida faculty, he was a professor in the University of Georgia's Department of Horticulture from 1999-2006. He joined the University of Georgia faculty as an assistant professor in 1987 and was promoted to associate professor in 1993 and professor in 1999.
Rieger received a bachelor's degree in horticulture in 1982 from the Pennsylvania State University, a master's degree in horticulture in 1984 from the University of Georgia and a doctorate in horticultural sciences in 1987 from the University of Florida.
About the search committee
The CANR dean search committee was convened by Provost Tom Apple and chaired by Riordan.
In addition to Riordan, the committee members included: Mohsen Badiey, deputy dean of the College of Earth, Ocean, and Environment and professor of marine science and policy; Kelebogile Setiloane, associate professor of behavioral health and nutrition; Blake Meyers, Edward F. and Elizabeth Goodman Rosenberg Professor and chair of the Department of Plant and Soil Sciences; Calvin Keeler, professor of animal and food sciences; Joshua Duke, professor of food and resource economics; Judy Hough-Goldstein, professor of entomology and wildlife ecology; James Glancey, associate professor of bioresources engineering; Pam Green, Crawford H. Greenewalt Chair of Plant and Soil Sciences; Susan Garey, Cooperative Extension agent; Carissa Wickens, assistant professor of animal and food sciences; Mark Isaacs, assistant professor of plant and soil sciences; and James C. Borel, DuPont executive vice president and a member of the UD Board of Trustees.