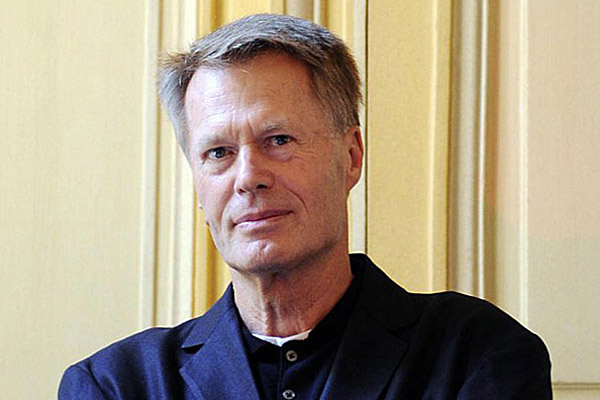 May 10-11: Nobel laureate to visit
UD to host Nobel laureate in literature as part of Transnational Encounters series
8:01 a.m., May 1, 2012--Students will have the opportunity to hear from a renowned author and world traveler during the first visit by a Nobel laureate in literature to the University of Delaware.
Jean-Marie Gustave Le Clézio, a celebrated French novelist, will visit UD from May 10-11 as part of the University's Transnational Encounters series.
Fulbright awards
Three University of Delaware students and an alumna have received word this spring that they will travel abroad as part of the newest class of Fulbright Student Program award winners.
Peace Corps plans
Two University of Delaware students, John McCarron and Bridgette Spritz, have been selected as Peace Corps volunteers and will serve in Ghana and Rwanda.
Le Clézio is the author of more than 30 novels and collections of short stories, including Terra Amata, La Guerre, and Les Geants.  In addition to the Nobel Prize he won in 2008, he has earned numerous awards for his work, including the Prix Renaudot and the Grand Prix Paul Morand de l'Academie francaise. 
During his visit, Le Clézio will be giving a keynote address in English at Clayton Hall.  The address will be Thursday, May 10, at 5 p.m., and a reception will follow immediately after the keynote address.
Bruno Thibault, professor of French, coordinated Le Clézio's visit with the help of the Transnational Encounters project directed by Richard Zipser, chair of the Department of Foreign Languages and Literatures.
"Our theme is transnational encounters, and quite frankly I cannot think of a better fit for that theme," Thibault said, referring to Le Clézio. 
Le Clézio was raised and educated in France and the U.K., but his family originally comes from the Indian Ocean island of Mauritius off the coast of Madagascar, and he has kept close ties with what he calls his "second homeland." 
His first travel experience and transnational encounter took place in 1948 in Nigeria, West Africa, when he was 8. This voyage by boat had a profound and lasting influence on his personality and on his writings, and he has said it was during that trip to Africa that he became a writer.
Later on, at age 23, Le Clézio was awarded the prestigious Renaudot Prize, one of the top two literary prizes in France. He continued travelling throughout his adulthood, and has lived in Panama, Mexico, the U.S., Morocco and Vanuatu, among other places.  
This extensive travel, Thibault said, has established Le Clézio as unique among contemporary French and francophone writers. Thibault said his "subtle art of storytelling, his contemporary humanism, his tales of postcolonial migrations, war and violence, and his interest in religious anthropology," are also well known and universally acknowledged.
A few of his novels also recount time he spent in Africa with his mother as they searched for his father during the post-war years in the 1940s.  Two popular titles about this time period include Onitsha and L'Africain. He has also written several travel diaries including Raga, which recounts his time in the South Pacific.
Le Clézio currently is teaching and writing in Seoul, South Korea.  With the money he received for the Nobel Prize, Le Clézio developed the Intercultural and Peace Foundation (IPF). The proceeds from this fund help impoverished children in Mauritius.
"He had a vision of a foundation that would help children have access to books and culture, and foster better understanding among Mauritius' numerous ethnic and linguistic communities," Thibault said.
Thibault said he believes students will relate easily to Le Clézio because he is a global citizen interested in issues such as the environment, and has a very personable attitude. He said he also thinks students will relate to his drive to see the world and keep writing about his experiences.
"Le Clézio provides a global vision.  He is a world traveler interested in transnational encounters and in foreign cultures other than Western cultures," Thibault said.
More about Transnational Encounters and the Le Clézio visit
The Transnational Encounters project previously assisted the First Year Experience program and Department of English in bringing Rebecca Skloot to campus in the fall, and the project will continue bringing other prominent authors to campus including Mario Vargas Llosa, another Nobel laureate in literature.
Le Clézio will also be doing readings of his work in both English and French, both on Friday May 11.  The French reading will be at 11 a.m. in 006 Kirkbride Hall and the English reading will be at 4:30 p.m. in 104 Gore Hall.  Both readings will be followed by questions and answers. Those interested can also see some of Le Clézio's works on display in the Morris Library entry area.
Article by Lauren Pitruzzello