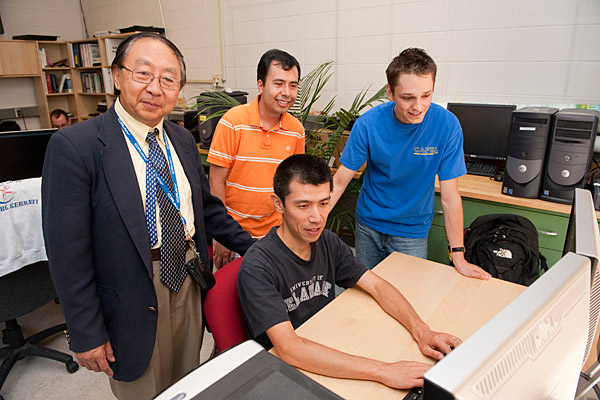 'World-class scientist'
Gao selected to European consortium of high-performance computing experts
10:43 a.m., May 24, 2012--University of Delaware professor Guang Gao has been selected to join a consortium of worldwide experts working to address high-performance computing challenges.
The consortium, called TERAFLUX, is the first international effort of its kind to bring together top specialists in data flow for high-performance computing from the United States and Europe.
Fulbright awards
Three University of Delaware students and an alumna have received word this spring that they will travel abroad as part of the newest class of Fulbright Student Program award winners.
Peace Corps plans
Two University of Delaware students, John McCarron and Bridgette Spritz, have been selected as Peace Corps volunteers and will serve in Ghana and Rwanda.
Underway since 2010, TERAFLUX includes 10 participating partners from Europe. In adding UD to the project, the European Union used an open, global application process.
The reviewers called Gao, Distinguished Professor of Electrical and Computer Engineering at UD, "a world-class scientist whose work is highly complementary to the existing project consortium." 
Additionally, they cited the work of his research team at the Computer Architecture and Parallel Systems Laboratory (CAPSL) with leading companies in the computer architecture field toward new technology dimensions considered valuable to the consortium.
The TERAFLUX project aims to design system software that will improve the runtime of computer applications – which means faster computer applications and increased processing speed, items critical to parallel computing architectures. 
The proposed partnership merges the TERAFLUX project's work on data flow, transactional memory and architecture simulators, with Gao's complementary work on codelets and many-core architectures at UD. 
Fundamental contributions
Gao's pioneering work on novel computer architecture models and system software, including the compilers that optimize applications for efficient execution, serves as the basis for high-performance parallel supercomputers and is considered to be at the pinnacle in processing capacity, particularly in speed of calculation.
He has led numerous research programs in parallel computing architecture and software sponsored by the National Science Foundation, Defense Advanced Research Projects Agency (DARPA), Department of Energy, Department of Defense, and other U.S. and Canadian government agencies and private organizations. 
Gao and his CAPSL team, located in the Department of Electrical and Computer Engineering at UD, are currently part of an Intel-led Ubiquitous High Performance Computing team focused on prototyping revolutionary hardware and software technologies for extreme-scale computing systems.
In 2000, Gao and his CAPSL associates also founded ET International (ETI), a computer technology and software company that builds software for multiple platforms–from mobile devices to desktop computers to data centers – focusing on solving problems with parallelization, synchronization and data movement. 
This April, Gartner, Inc., the world's leading information technology research and advisory company, named ETI one of five "2012 Cool Vendors" in the high-performance computing and extreme-low-energy servers category.
The project's reach
Gao's group will develop a fine-grain execution model called the Codelet Model, a dataflow-based model for manycore architectures. 
According to Roberto Giorgi, principal investigator on the grant and professor at the Universita' Degli Studi Di Siena, in Siena, Italy, this work may broaden the project's reach beyond high performance computing to include life sciences or earth sciences.
"This represents a targeted breakthrough in scalable models of computation and contributes to the long-term vision for high-performance computing, particularly as it relates to exascale parallel computers," Giorgi explained.
Gao and his CAPSL colleagues will travel to Munich, Germany, this June for the inaugural TERAFLUX-INCO gathering of all collaborators.
"This international collaboration will foster a unique partnership among the participating groups and will elevate the effect that UD, and Gao in particular, have in this important area of high performance computing," remarked Ken Barner, professor and chair of the Department of Electrical and Computer Engineering. 
Gao added that he hopes the consortium will eventually expand to include participants beyond the U.S. and Europe.
"I hope it also will attract international graduate students and post-doctoral research scientists to UD," he said. 
About TERAFLUX
TERAFLUX is a Future Emerging Technologies Integrated project funded by the European Commission's FP7 IST program. 
Initiated Jan. 1, 2010, TERAFLUX includes 10 participating partners from Europe including Italy, France, Germany, England, Spain and Cyprus, as well as industry partners from the Barcelona Supercomputing Center, Hewlett-Packard, Microsoft, CAPS enterprise and Thales, among others.
Additional future funding may further expand the partnership in the U.S.
Article by Karen B. Roberts
Photo by Evan Krape