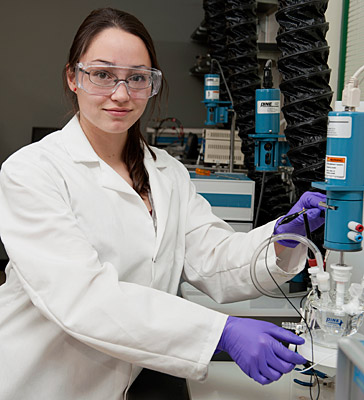 NSF Graduate Research Fellows
Ten win prestigious graduate fellowships from National Science Foundation
11:14 a.m., May 2, 2012--Ten University of Delaware students and recent alumni have received National Science Foundation (NSF) Graduate Research Program Fellowships. Numerous Nobel Prize winners are among past recipients of the prestigious award. 
Reserved for outstanding students pursuing research-based master's and doctoral degrees in science, technology, engineering or mathematics (STEM), these NSF fellowships provide a three-year annual stipend of $30,000, plus a $12,000 cost of education allowance for tuition and fees, opportunities for international research and professional development, and the freedom to conduct research at any accredited U.S. institution of graduate education they choose.
National Medal of Science
President Barack Obama recently presented the National Medal of Science to University of Delaware alumnus Rakesh Jain.
Warren Award
Rosalind Johnson, assistant dean for student success in the NUCLEUS Program in UD's College of Arts and Sciences, was presented the John Warren Excellence in Leadership and Service Award during a May 26 ceremony.
"NSF's Graduate Research Program Fellowship is bestowed to exceptional students who demonstrate significant potential to contribute to scientific innovation and education," said Charlie Riordan, vice provost for graduate and professional education. "We wish our NSF Fellows great success as they pursue their graduate degrees and aspire to become the leaders of tomorrow."
"I'm so excited to be an NSF Fellow, and more excited to be at UD!" said Elizabeth (Lizzy) Mahoney, a doctoral student in chemical engineering from Overland Park, Kan. She is one of four UD doctoral students who received the award, alongside colleagues Tyler Josephson and Stephen Ma in the Department of Chemical and Biomolecular Engineering, and Jason Fischel, who is working in environmental soil chemistry in the Department of Plant and Soil Sciences. 
Mahoney's research, in the laboratory of her adviser, Yushan Yan, focuses on developing cheaper, more efficient catalysts for fuel cells than the pricey platinum currently in use. The fuel cells commercially available today operate under acidic conditions, and Mahoney is looking to convert them to alkaline environments that may allow for the use of nickel and other inexpensive metals as catalysts due to fewer material stability issues at high pH.
Fischel, who is from Hockessin, Del., is working under the guidance of his adviser, Donald L. Sparks, to answer fundamental scientific questions about the environmental mobility of toxic chromium. Through a combination of lab and field work, he is exploring the geochemical cycling of hexavalent chromium from former chrome manufacturing plants in Baltimore, Md. His research will be used to assess the health effects of this heavy metal on nearby urban communities.
When he completes his doctorate, Fischel plans to become a professor at a small liberal arts college. "This will allow me to continue my research to expand our understanding of the environment, while also giving me the opportunity to educate and inspire future scientists," Fischel notes.
Stephen Ma is researching Covalent Adaptable Networks (CANs), which are covalently bonded polymer networks that have demonstrated the ability to de-bond, reshuffle and re-bond without significantly altering the network's mechanical properties — an especially attractive ability when it comes to releasing stress in a material or developing self-healing in materials. He is working with his adviser, Christopher Kloxin, to incorporate CANs into "surface-functionalized" coatings such as pressure-sensitive adhesives, anti-fouling ship coatings and anti-fouling coatings for medical equipment. 
Ultimately, Ma wants to both conduct research and teach. As an undergrad, he taught high school students basic fluid mechanics and thermodynamics through short lectures, interactive demonstrations and a small final project.  
"I thoroughly enjoyed working with those students and believe such outreach is crucial to generating interest among high school graduates in the STEM fields. This is something I hope to continue here, as well as participate in the UD Teaching Fellows Program on the university level," Ma says.  
Also winning graduate fellowships were chemical engineering majors Joey D. Kim, from Irvine, Calif., who will attend graduate school at the University of California, Santa Barbara, and Robert Pagels, from Newark, Del., who is bound for Princeton University. Pagels is in the Honors Program.
Four 2011 UD alumni also were named NSF Fellows, including Edward Bonnevie, an Honors mechanical engineering graduate from Lafayette Hill, Pa., who is pursuing studies at Cornell; Anthony Coppola, an Honors mechanical engineering graduate from Vernon, N.J., currently pursuing a Ph.D. in aerospace engineering at the University of Illinois; Sarah Friedrich, an Honors mechanical engineering graduate from Finksburg, Md., currently pursuing a Ph.D. in biomedical engineering at Johns Hopkins University; and Christopher Mancuso, an Honors physics and astronomy graduate from Newark, Del., at the University of Colorado.  
Additionally, 12 UD students — four at the graduate level and eight at the undergraduate level — received honorable mention. Visit the Office of Graduate and Professional Education website for a complete listing. 
Article by Tracey Bryant
Photo by Kathy F. Atkinson