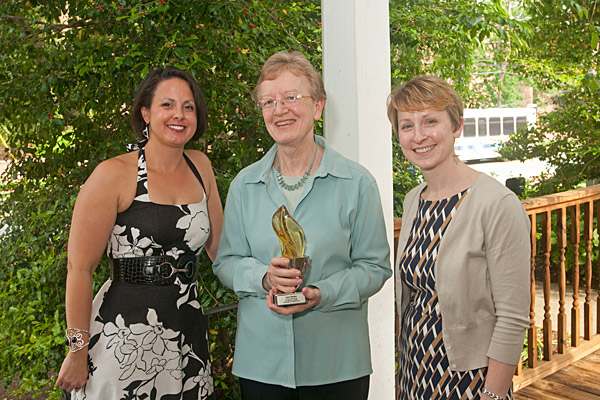 First Torch Award
Women's Caucus presents inaugural Torch Award to Boylan
2:09 p.m., May 21, 2012--The Women's Caucus at the University of Delaware has presented its inaugural Torch Award for Women's Equality to Anne M. Boylan, professor of history.
The award, to be given annually to a woman who has "carried the torch for women's equality," was presented during a ceremony held Wednesday, May 16, at the Center for Black Culture.
National Medal of Science
President Barack Obama recently presented the National Medal of Science to University of Delaware alumnus Rakesh Jain.
Warren Award
Rosalind Johnson, assistant dean for student success in the NUCLEUS Program in UD's College of Arts and Sciences, was presented the John Warren Excellence in Leadership and Service Award during a May 26 ceremony.
The torch recalls the lighting of a torch for the 1977 National Women's Conference, symbolically charting a course between the first Women's Rights Convention of 1848 and the modern movement for women's liberation. It was selected by the caucus as a representation of past and present efforts to achieve equality and improve the quality of employment for women at UD. 
A caucus representative said, "We recognize the remarkable distance that the University has traveled, express our deep gratitude for the policies and opportunities that exist thanks to decades of advocacy, and continue to work toward full equity."
Boylan was selected for recognition "for her outstanding contributions to the cause of women's equality at UD."
She served on the President's Commission on the Status of Women for many years; has worked with ADVANCE to develop strategies to bring more female faculty into the College of Engineering; has mentored countless female undergraduates, graduate students, and new faculty; and has contributed service and teaching to the Department of Women's Studies.
Her undergraduate and graduate courses in American women's history have introduced hundreds of UD students to the subject.
Boylan was cited for her work in helping form the Women's Caucus, and was honored for her "example of advocacy, persistence and mentorship."
About Anne M. Boylan
Boylan joined the UD faculty in the Department of History in 1986 and was named a professor in 2002. She has a joint appointment in the Department of Women's Studies.
Boylan conducts research in American history with an emphasis on women and their rights. She has studied the history of women's voluntary organizations, as well as the history of women's rights, including reproductive rights, and women's rights movements in the U.S.
She is the author of The Origins of Women's Activism, New York and Boston, 1797-1840, published in 2002 by the University of North Carolina Press, and Sunday School: The Formation of an American Institution, 1790-1880, published in 1988 by the Yale University Press.
She received a bachelor's degree from Mundelein College in Chicago and her master's degree and doctorate from the University of Wisconsin Madison.
Photo by Duane Perry