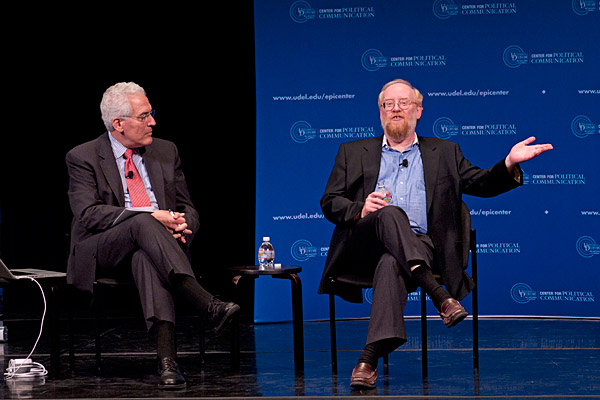 Spy hackers
Intelligence historian cites changing focus of American espionage
6:02 p.m., May 3, 2012--In the spy trade, predicting the future is a risky business at best, but experts believe that America's intelligence efforts will focus on Iran, North Korea and China. 
Matthew M. Aid, intelligence historian and expert on the National Security Agency, discussed the forces driving this emerging strategy during a talk on Wednesday, May 2, in Mitchell Hall.
From graduates, faculty
As it neared time for the processional to open the University of Delaware Commencement ceremonies, graduating students and faculty members shared their feelings about what the event means to them.
Doctoral hooding
It was a day of triumph, cheers and collective relief as more than 160 students from 21 nations participated in the University of Delaware's Doctoral Hooding Convocation held Friday morning on The Green.
Video of the presentation is available at this website.
Aid's talk, "The Future of Intelligence and Espionage," concluded the spring 2012 Global Agenda speaker series "Spies, Lies and Sneaky Guys: Espionage and Intelligence in the Digital Age." 
"When President George W. Bush came into office in 2001, he said that he did not plan to spend a lot of time on the Middle East," Aid said. "Then, 9/11 happened, and that changed things completely." 
Aid said that President Barack Obama's recent visit to Afghanistan to sign a strategic partnership agreement with Afghan President Hamid Karzai marks coming changes in American intelligence policy.
During his visit on the first anniversary of the death of Osama bin Laden on May 2, Obama said that he remains committed to pulling 23,000 troops out of the country by September and that all forces will be withdrawn by 2014. 
Changes in troop deployment do not mean that America will abandon its intelligence gathering operations in the region, Aid said. 
"While the core of al-Qaeda has been whittled down, it is not dead. It's still there," Aid said. "The head of al-Qaeda is in hiding but may be planning to resurrect his organization with a high profile attack, so we will always be watching them." 
Despite a difference in opinion between the Pentagon and the intelligence community as to whether or not the Afghan War is being won or not, changes are imminent in the size of focus of America's intelligence gathering community, Aid said. 
"The size of the U.S. intelligence effort is being cut by 15 to 20 percent over the next three to four years," Aid said. "We will always remain focused on the war on terror, but the new focus will be on East Asia and Iran."
Aid said that he wished the White House would have a more transparent policy on Afghanistan and that other major hot points not being discussed are intelligence efforts in Somalia and Yemen.
"Things are not going well in Yemen, and al-Qaeda is moving in," Aid said. "We can't fix those things without change, and the same is true in Somalia. The situation there is stable, but not good." 
While America's intelligence operations move from a battlefield strategy to more of an economic defensive policy, Aid said that in intelligence terms China is the 600-pound gorilla that people worry about.
"The Chinese hold a huge percentage of American Treasury Bonds, and when the American economy went bust in 2008, they did not sell us out," Aid said. "I don't see China as a military threat, but they do give the U.S. intelligence community fits with their cyber attacks." 
Aid described intelligence hacking as an offensive strategy, while information gathering by the National Security Agency can be seen as defensive tactic.  
On a personal level, Aid said that his own personal computer has been hacked 68 times since the start of 2012, and that it only takes four minutes after logging in for the Chinese hackers to do this." 
These hacking attempts reflect the way China operates around the world due to lack of a super computer and a foreign bases from which to operate. 
"They are stuck and they have to resort to computer hacking," Aid said. "We have been spying on each other since 1949 when the communists took over."
While the Chinese hacking attempts set off security software alarms, hacking done by the National Security Agency is so sophisticated that it is unlikely to be detected, Aid said.
"When the National Security Agency taps your phone or hacks your computer, you will never know it," Aid said. "They have a big budget and they can afford to have the very best." 
What Aid said he would like to see is more cooperation among the many American intelligence gathering agencies.
"Russia has two agencies, the Chinese have three and we have 17 agencies," Aid said. "We have a long way to go to have the kind of system the 9/11 Commission wanted us to have. We desperately need an intelligence 'czar' at the top with near dictatorial power to ensure that there is more cooperation." 
Aid is a regular commentator on intelligence matters for The New York Times, the Financial Times, the National Journal, the Associated Press, CBS News, National Public Radio and others.
A Russian linguist, Aid is the author of Intel Wars: The Secret History of the Fight Against Terror (2012).
Other books include Secret Sentry: The Untold History of the National Security Agency (2009) and Secrets of Signals Intelligence During the Cold War and Beyond (2001), which he co-edited with Cees Wiebes. 
About Global Agenda
Global Agenda is presented by the Institute for Global Studies, the Department of Communication, the Department of Political Science and International Relations and the Center for Political Communication.
Talks are moderated by Ralph Begleiter, director of the Center for Political Communication.
The University of Delaware's fall speaker series, National Agenda "The Road to the Presidency," begins Sept. 12, in Mitchell Hall. Information on the fall series will be posted on the Center for Political Communication website in August. 
Article by Jerry Rhodes
Photo by Duane Perry