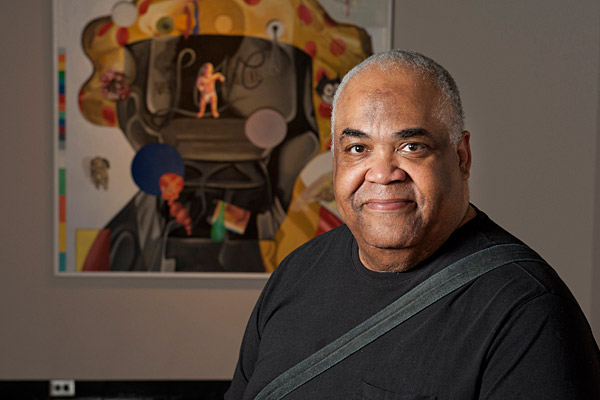 Williams honored
University art professor wins prestigious Wynn Newhouse Award
10:58 a.m., March 26, 2012--Many people credit Woodstock, the legendary music festival, with revolutionizing rock and roll. The festival, however, recognized many artistic disciplines, and for then 17-year-old Peter Williams it was one of the first times he won an award for his paintings.
That prize was certainly not his last. Williams, a professor of fine arts and visual communication at the University of Delaware, went on to exhibit his work across the country. He most recently was recognized with a Wynn Newhouse Award, an honor granted to fine artists of professional standing who have a disability.
National Medal of Science
President Barack Obama recently presented the National Medal of Science to University of Delaware alumnus Rakesh Jain.
Warren Award
Rosalind Johnson, assistant dean for student success in the NUCLEUS Program in UD's College of Arts and Sciences, was presented the John Warren Excellence in Leadership and Service Award during a May 26 ceremony.
During the early part of his college career at the University of New Mexico at Albuquerque, Williams was involved in a severe automobile accident that left him without one of his legs. He spent seven months recovering in the hospital.
Williams describes his artwork as biographical, usually containing human figures that represent himself. He said the accident altered the way he portrayed these figures.
"Instead of drawing the figure in complete form, without realizing it I started disassembling it," Williams said.
Williams said his paintings also make cultural statements, exploring race, class and gender. He said he executes his work without a subject in mind, and instead works in a stream of consciousness style, painting what he sees and feels.
"You make art to meet your own needs and hopefully there is someone out there who can respond to that," Williams said.
He said his work has been affected by recent events and influences in his life, including recent surgeries. He has painted his neighborhood, and said the fireflies where he lives have also made their way into his paintings, including some depictions of his neighbors as fireflies.
After his recovery from the accident, Williams eventually returned to school and received a bachelor of fine arts degree from the Minneapolis College of Art and Design.  He worked in studios for ten years until he decided to pursue a master of fine arts degree at the Maryland Institute College of Art. 
"I decided I was too broke and needed a graduate degree," Williams said.
He entered teaching immediately after receiving his degree, and taught painting at Wayne State University in Detroit. He said he was surprised when he received this position, since most recent graduates first teach introductory courses. Williams remained at Wayne State for 17 years.
In 2003, Williams was honored with an exhibition during the Whitney Museum Biennial in Manhattan, an event that he said equates to the "academy awards" of art. That honor gave him a great deal of recognition, and he traveled the country guest lecturing at many other universities.
The recognition gave him opportunities for teaching positions outside of Detroit. Though he had many offers from other universities, Williams said he was drawn to Delaware because of the temperate climate and the opportunity to help the school revitalize the art program. He made the transition to the University in 2004.
Williams, like all of the recipients of the Wynn Newhouse Award, was nominated anonymously and then asked to submit work to be considered for the grant. He submitted pieces from his exhibition in Detroit last year called Midnight Waltz in D-Minor, hosted by the gallery Paul Kotula Projects.
Williams said the grant would be used to help him during future projects, including a solo exhibition he has in April of next year at Foxy Production in New York. This opportunity also arose in response to his exhibition in Detroit last year.
Williams said he always had support for his art practice, especially from his mother who was also an artist. And though Williams uses external events and images in his paintings, including one painting depicting a particularly dynamic faculty meeting, he said most of his work continues to be narratives about himself.
"I am trying to make paintings about what it is like to be me at this point in time," Williams said.
About the Wynn Newhouse Award
The Wynn Newhouse Award was established in 2006 by its namesake, who lost the use of his hand as a young man and was diagnosed with multiple sclerosis later in life. Newhouse died in 2010, but the award has carried on for the past few years in his memory. The foundation awards a total of $60,000 annually to fine artists chosen by a committee of judges who are prominent in the arts and disabilities fields.
Williams and eight other artists received the award for 2011.
Article by Lauren Pitruzzello
Photo by Kathy F. Atkinson