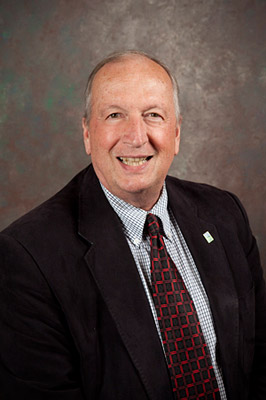 Festschrift for Murray
Teacher Education Accreditation Council recognizes UD's Frank B. Murray
8:57 a.m., March 6, 2012--"Can the program prove through persuasive evidence that its graduates actually possess the attributes and skills that the program claims it will engender in its beginning students?"  That is the question that Frank B. Murray, H. Rodney Sharp Professor in the University of Delaware School of Education always asked his colleagues in the Teacher Education Accreditation Council (TEAC).
Now in its 13th year, the goal of the national accreditor of teacher education programs is to support the preparation of caring, competent and qualified teachers.  TEAC's founding president and driving force from 1998 to 2011 was Frank Murray.
National Medal of Science
President Barack Obama recently presented the National Medal of Science to University of Delaware alumnus Rakesh Jain.
Warren Award
Rosalind Johnson, assistant dean for student success in the NUCLEUS Program in UD's College of Arts and Sciences, was presented the John Warren Excellence in Leadership and Service Award during a May 26 ceremony.
Murray was recently honored with a Festschrift at TEAC's annual meeting in Chicago on Feb. 16.  A Festschrift is a book which honors an academic's lifelong achievements by presenting the individual with scholarly pieces related to that person's work.  
The book, Inquiry, Evidence and Excellence:  The Promise and Practice of Quality Assurance, is a volume of essays honoring Murray's work in higher education, in particular in the areas of empirically-based quality assurance and the development of effective systems of quality control in teacher education preparation programs.
The editors of the Festschrift, Mark LaCelle-Peterson and Diana W. Rigden, contacted Murray's colleagues, outstanding leaders in higher education, and invited them to contribute essays.  The essays focused on the progress of teacher education during the last 13 years and on "future questions and possible solutions that the field must address", writes Professor Sandra Cohen of the University of Virginia in her foreword to the book.  
The eight essays honor Murray's work as a leader, visionary, someone "resolute in the face of challenges", a person with the consistent ability to see the "big picture of issues and educational processes" and someone who is "deliberately rowing against strong currents." 
"It is an honor well deserved and beautifully done, " states Robert Hampel, interim director of UD's School of Education.  
At UD since 1969, Murray has served as director for both the Center for Education Leadership and Policy and the Department of Educational Studies and as dean of the College of Education, and was named H. Rodney Sharp Professor in the Department of Educational Studies and Department of Psychology in 1975.
Photo by Ambre Alexander