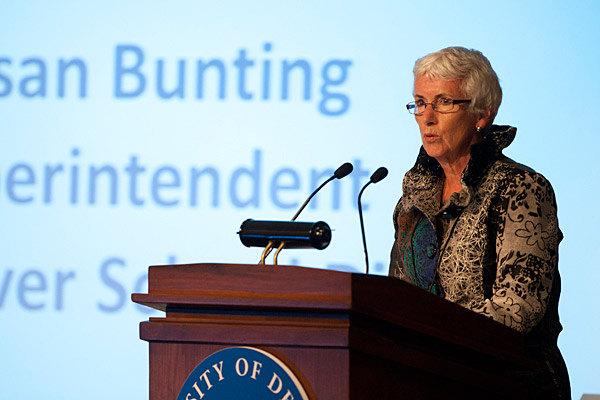 Education honors
UD alumna Bunting finalist for National Superintendent of the Year
10:41 a.m., March 15, 2012--"Susan Bunting is a brilliant, passionate advocate for improved student achievement.  She truly believes that public education reform is a matter of social justice and national health," states Lillian Lowery, Delaware secretary of education.
Lowery is a solid supporter of Bunting -- superintendent of the Indian River School District (IRSC) and a University of Delaware alumna -- and with good reason.  Bunting was nominated as one of the four finalists for this year's National Superintendent of the Year award by the American Association of School Administrators (AASA) – the first superintendent in Delaware to achieve this distinction.
National Medal of Science
President Barack Obama recently presented the National Medal of Science to University of Delaware alumnus Rakesh Jain.
Warren Award
Rosalind Johnson, assistant dean for student success in the NUCLEUS Program in UD's College of Arts and Sciences, was presented the John Warren Excellence in Leadership and Service Award during a May 26 ceremony.
Despite her district's changing and challenging demographics – 24 percent of the children are Hispanic – in 2011, IRSD students ranked among the state's best in reading, math, science and social studies scores from the Delaware Comprehensive Assessment System, and all 14 IRSD schools were rated as "superior" in Delaware's accountability system.
Bunting insists there is no magical formula for her district's success. She just makes it clear to school leaders that it is their responsibility to figure out how to enable our children to learn -- that is their job. To that end, the district has established goals, based on Race to the Top requirements, with each school given individual targets to reach.  "Their goals are not always easy to achieve, but we want our schools to reach for the golden ring," says Bunting.  
To ensure the schools are on the right path, Bunting maintains a learning-focused strategy, using research-based curriculum.  "We have laid the foundation and built upon it steadily over the past few years. It takes a lot of patience, but the work has paid off."
Indian River Board of Education member Nina Lou Bunting, who is not related, has known the superintendent for years and finds her to be a consummate educator. "Dr. Bunting has brought honor to our district through her superior leadership skills and her never wavering commitment to academic excellence. She maintains a firm belief in the 'team approach' to education and is a mentor and role model for the educators in our district, helping make her mark on our state and the nation."  
Bunting takes her responsibility as a role model seriously.  As a graduate of UD's doctoral program, she encourages her administrators to take classes, stating that the quality of the University's education program is unparalleled. 
In southern Delaware, UD's College of Education and Human Development offers a master's degree in instruction as well as courses in autism, technology, library media and special education.  An Ed.D. in school leadership draws students from all three counties, and is usually a hybrid of online sessions and Newark campus classes.
In February, Bunting attended the AASA conference in Houston.  As a finalist for Superintendent of the Year, she was presented with a plaque and a medal.  But she is quick to insist that the most important gift she received was the overwhelming support from the community through calls, emails and letters from parents, faculty, friends and former students. They were all pleased to hear that Bunting, and the district, has received the recognition they deserve.  
"This award was the capstone of my career.  I couldn't have had a greater experience" states Bunting. "But, hearing from all those people, the culmination of all those years and relationships, was truly a humbling and gratifying experience. It was nice to see my dedication to children has paid off."
Article by Alison Burris
Photo by Kathy F. Atkinson