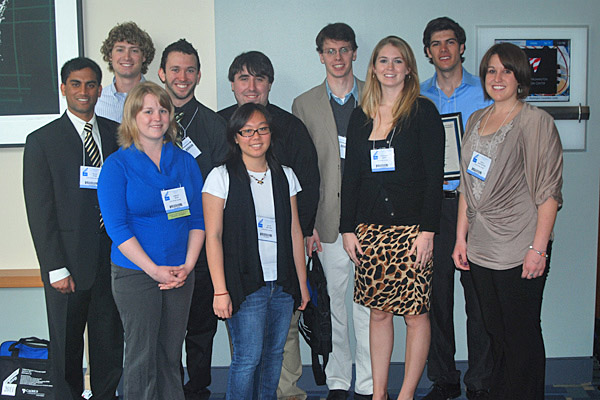 Student research awards
UD students consistently among top winners at biology, biochemistry conference
1:13 p.m., March 1, 2012--When University of Delaware student Michael Brister won the undergraduate poster competition last year at the annual American Society of Biochemistry and Molecular Biology conference, he joined a long line of winners from UD.
In an article for ASBMB Today, a publication for the society, UD Prof. Hal White describes how students can be successful at these national conferences, and his advice comes from experience. 
Chronic wounds
UD's Millicent Sullivan and Kristi Kiick have received a $1.4 million grant from the National Institutes of Health for research that could provide a new approach to the treatment of chronic wounds.
Prof. Heck's legacy
The American Chemical Society is highlighting the legacy of the late Nobel laureate Richard Heck, the Willis F. Harrington Professor Emeritus of Chemistry at the University of Delaware with a digital tribute on its publications website.
White, a professor of chemistry and biochemistry and the director of the Howard Hughes Medical Institute (HHMI) Undergraduate Science Education program on campus, has accompanied students to these conferences for the past decade, and in that time UD students have won more than double the awards received by students from any other university.
Brister, a senior biochemistry major and Honors Program student from Fort Washington, Pa., will compete again in the poster competition at the ASBMB annual Experimental Biology Meetings, which will be held this year in San Diego from April 21- 25.
Eighteen other students, a record number of attendees from the University, will participate in the conference.  The HHMI program coordinates and funds the students' participation in these conferences.  
Brister, who was also a HHMI summer scholar, will again present his research conducted in the lab of Neal Zondlo, associate professor of chemistry and biochemistry. The research focuses on specific proteins implicated for their role in Alzheimer's disease and studies ways to prevent the proteins from taking on a disease function.
Brister said he was shocked when he won the competition last year, and while he is not looking to overwhelm himself with pressure to win again, he is preparing strategies to maximize the amount of lectures and symposiums he can attend during the short time frame of the conference.
"Going back in my second year, I have the advantage of knowing I need to do some planning before I go," Brister said.
The ASBMB awarded two students, Allison McCague and Tim Gilpatrick, complete coverage of the cost of their travel expenses to San Diego, amounting to about $1,125 each, and both students will be speaking at symposiums during the conference. 
Gilpatrick, a senior biochemistry major and Honors Program student from Nashua, N.H., works in the lab of Brian Bahnson, professor of chemistry and biochemistry, and studies proteins associated with heart disease and HDL and LDL cholesterol.  He began his work with the lab his sophomore year and has also participated in the summer scholars program sponsored by the HHMI grant.
Gilpatrick will be speaking during the metabolomics session at the conference, and while he said he is somewhat nervous about presenting his research in front of so many experts in his field, he is still very excited about the opportunity to learn from so many other researchers working in the same area of study.
"I really get to gain some insight into the vastness of this field," Gilpatrick said. 
He said he enjoys the opportunities researchers in different fields have at this symposium to exchange ideas and then collaborate in the future. "I like working right at the interface and learning skills that really help put research in a broader context," Gilpatrick said.
McCague, a junior biology major and Honors Program student from Berkeley Heights, N.J., conducts research with Erica Selva, associate professor of biological sciences, studying genes associated with development in fruit flies. She said the Department of Biological Sciences has been extremely supportive of undergraduate research, and she enjoys the educational aspects of working in the lab.
"I like that it makes you an independent thinker and forces you to solve problems on your own," McCague said  
McCague will be speaking at the glycobiology session of the conference.  She participated in a prior regional symposium, but this is the first time she will be attending a national conference.  She said she is looking forward to the opportunities for networking and exchanging ideas with other researchers.
Four other students were awarded partial funding for travel expenses from the ASBMB: Nick Audette and Dylan Lowe were recipients of $400 competitive travel awards, and Erica Boetefuer and Sarah Stamm were awarded $400 non-competitive travel awards.  
White said approximately 350 students have benefited from the HHMI grant since the University began applying for it in 1992.
Because the conference is a national event, White said the speakers usually include Nobel Prize winners and the top academics from many of the fields within biology and biochemistry research.
White said the UD students always do a wonderful job, even when they feel pressure presenting alongside some of the most successful researchers in their field.  He said he enjoys being able to work so closely with undergraduate students and has always been amazed by the students' accomplishments and the knowledge they present.
"They're teaching me stuff that I don't know," White said.
Article by Lauren Pitruzzello