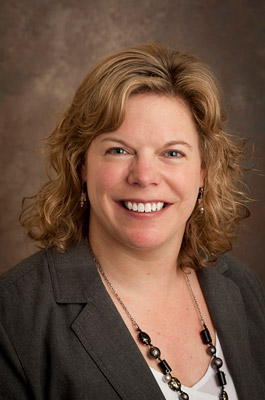 ACPA post
Kerr elected American College Personnel Association vice president
12:09 p.m., March 1, 2012--Kathleen Kerr, director of the University of Delaware's Office of Residence Life, has been elected vice president of the American College Personnel Association (ACPA). She will serve a three-year term, first as vice president, then as president, and then as past-president of the association.
With about 7,000 members, ACPA is the leading comprehensive association for advancing student affairs and engaging students in a lifetime of learning and discovery.
'Resilience Engineering'
The University of Delaware's Nii Attoh-Okine recently published a new book with Cambridge University Press, "Resilience Engineering: Models and Analysis."
Reviresco June run
UD ROTC cadets will run from New York City to Miami this month to raise awareness about veterans' affairs.
"I am very excited to have been elected as vice president," Kerr said. "The positions will allow me to continue to provide leadership to an association which plays an important role in the lives of many graduate students, professionals and faculty members working and teaching in student affairs fields."
Before her election as vice president, Kerr served on ACPA's governing board for three years, chaired the ACPA Commission for Housing and Residential Life for two years, and served for several years on ACPA's Sustainability Committee.
Professional areas represented in ACPA include residence life, student conduct, alcohol and drug education, admissions, orientation and first year experience. Also represented are members working in athletics, counseling and psychological services, assessment and evaluation, and academic advising.
"The association supports the generation and dissemination of knowledge and serves as a leader regarding policies, practices, and programs for student affairs professionals and the higher education community," Kerr said. "Through ACPA, I am able to keep abreast of current and emerging issues." 
Kerr said that her ACPA affiliation allows her to network with colleagues and discuss policies and best practices, while participating in stimulating professional development opportunities.
"I believe that my work with ACPA informs me daily in my role as director of Residence Life," Kerr said. "In my ACPA leadership role, I will be able to give back to an association that has given so much to me in terms of my growth and development in this field over the last 22 years."
Kerr joined the UD staff as a residence hall complex coordinator for the Rodney Complex after receiving her bachelor's and master's degrees from Indiana University, Bloomington. Named director of residence life in 2001, Kerr received a doctorate in educational leadership from UD.  She received a secondary appointment as an assistant professor in the Department of Human Development and Family Studies soon after completing her doctorate. In addition to her director responsibilities, she teaches master's level classes and has been an instructor of a first year seminar for the last three years.
Article by Jerry Rhodes