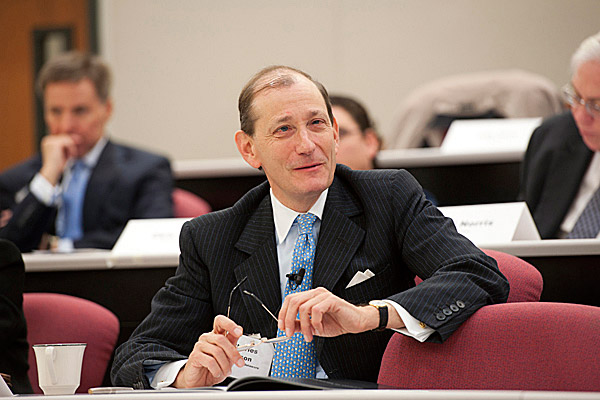 April 12, May 8: Corporate governance panels
UD's Weinberg Center for Corporate Governance to host two panel discussions
2:02 p.m., March 27, 2012--The John L. Weinberg Center for Corporate Governance at the University of Delaware has announced two corporate governance panels to be held at 9:30 a.m. on Thursday, April 12, and on Tuesday, May 8, in 125 Alfred Lerner Hall.
Each panel, moderated by Weinberg Center director Charles Elson, will bring together seasoned experts with experience as corporate executives, board directors and writers and educators in the corporate governance field.
From graduates, faculty
As it neared time for the processional to open the University of Delaware Commencement ceremonies, graduating students and faculty members shared their feelings about what the event means to them.
Doctoral hooding
It was a day of triumph, cheers and collective relief as more than 160 students from 21 nations participated in the University of Delaware's Doctoral Hooding Convocation held Friday morning on The Green.
On April 12, a panel will discuss "Dual Class Stock: Cost, Benefits and Future under Delaware Law."
Experts residing on the panel will include: 
Frederick H. Alexander, partner at Morris, Nichols, Arsht and Tunnell LLP; 
William Bratton, Nicholas F. Gallicchio Professor of Law and co-director of the Institute for Law and Economics at University of Pennsylvania Law School; 
David L. Cohen, executive vice president at Comcast Corp.; 
Geoff Colvin, editor at Fortune Magazine; 
J. Michael Cook, retired chairman and chief executive officer at Deloitte and Touche LLP, and director at International Flavors and Fragrances and Comcast Corp.; 
Michael Geltzeiler, chief financial officer and group executive vice president of NYSE Euronext, Inc.; 
Scott Goebel, senior vice president and general counsel at Fidelity Investments; 
John Noble, vice chancellor, Delaware Court of Chancery; 
Michael Useem, William and Jacalyn Egan Professor of Management and director of the Center for Leadership and Change Management at the Wharton School, University of Pennsylvania; and 
Ann Yerger, executive director, Council of Institutional Investors.
On May 8, a second panel will discuss "Punting Peer Groups: Resolving the Compensation Conundrum."
Experts residing on the panel will include:
Carol Bowie, head of Compensation Research Development at ISS-MSCI;
Stephen Brown, director of corporate governance and associate general counsel at TIAA-CREF;
William Chandler, partner at Wilson Sonsini Goodrich and Rosati and former chancellor, Court of Chancery;
Michael Davis, senior vice president of Global Human Resources at General Mills;
Francesco Guerrera, money and investing editor at the Wall Street Journal;
Bonnie Hill, co-founder of Icon BLUE and director at California Water Service Group, AK Steel Holding Corporation, Home Depot, Inc., and Yum Brands, Inc.;
Sam Glasscock, III, vice chancellor, Court of Chancery;
Ira Kay, managing partner at Pay Governance;
Thomas L. Kelly, general partner at CHB Capital Partners and director at Ensco, PLC;
Robert McCormick, chief policy officer at Glass Lewis;
Robert Rock, chairman and publisher of Directors and Boards, and director at Alberto-Culver Co., Penn Mutual Life Insurance Co., Quaker Chemical Co. and Advanta Corp.;
Anne Sheehan, director of corporate governance at CALSTRs; and 
David Swinford, president and chief executive officer of Pearl Meyer and Partners, Inc.
Each panel discussion will run until approximately 11:30 a.m. The events are free and open to the public, but registration is required through RSVP to Alba Bates at batesa@udel.edu.
For directions and other information, visit the Weinberg Center website.