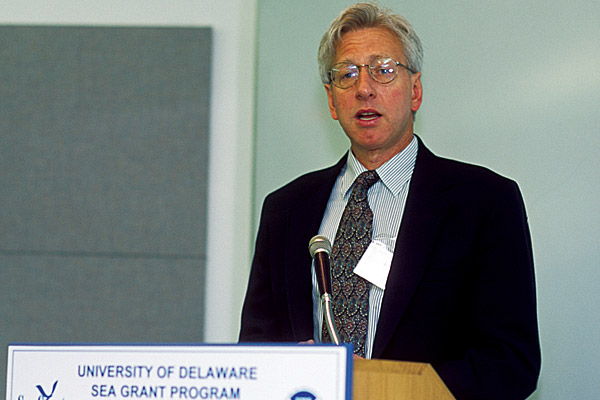 April 4: Groundwater seminar
Coastal groundwater is topic in UD Focus on the Delaware Coast seminar
2:44 p.m., March 19, 2012--"Our Groundwater Resources -- Current and Future Status" will be the topic of the next seminar in a series focusing on coastal resource issues in Delaware.
The seminar will take place on Wednesday, April 4, from 8:30 a.m. to 12:30 p.m. at the Virden Center at the University of Delaware's Hugh R. Sharp Campus in Lewes, Del. The event is hosted by the Delaware Sea Grant College Program (DESG) and the Delaware Geological Survey.
June 5: Blue Hen 5K
University of Delaware graduates planning to attend Alumni Weekend are encouraged to register for the annual Blue Hen 5K walk and run, which will be held Sunday morning, June 5.
June 6-9: Food and culture series
The 20th annual June Lecture Series at the Osher Lifelong Learning Institute at UD in Wilmington will be held June 6-9. Titled 'June a la Carte,' this year's program focuses on great political documents, feminism, world politics and a Newark cuisine sampler.
"Groundwater is the sole source of drinking water south of the C&D Canal, and coastal residents have expressed concern about groundwater overuse and threats to groundwater quality from land use, saltwater intrusion and sea-level rise," said Joe Farrell, DESG resource management specialist and one of the seminar's coordinators. "In response to these concerns, we are convening a distinguished group of scientists who can address these issues."
Coastal scientists from UD and federal and state agencies will provide a primer on groundwater, a coastal groundwater resource inventory, and information about current use, potential impacts from land use, saltwater intrusion and sea-level rise.
The intent of the Focus on the Delaware Coast seminar series is to provide relevant science-based information to support and inform local decision-makers and concerned citizens.
The seminar is free, but seating is limited. Advance registration is required by March 30. For more information and a preliminary program, visit the seminar website.