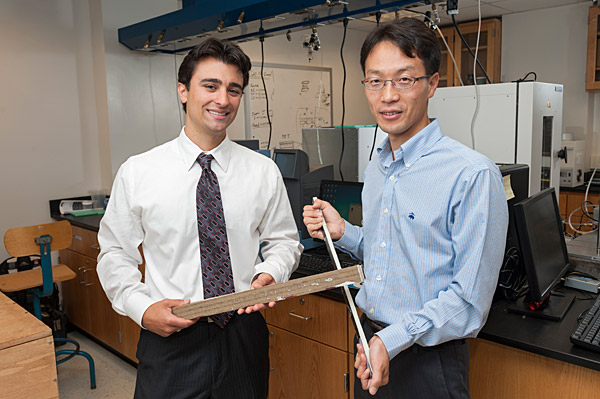 Quiet down
UD composites student wins national materials award
3:30 p.m., June 18, 2012--James Sargianis, who recently completed his master's degree at the University of Delaware, took first-place honors at the 2012 SAMPE National Student Research Symposium in May. His paper, "Natural Material Based Sandwich Composites with Enhanced Noise Mitigation," was selected from a pool of six finalists across the U.S. in the master's degree category.
Sargianis is affiliated with the UD Center for Composite Materials (CCM) and advised by Jonghwan Suhr, assistant professor in the Department of Mechanical Engineering.
National Medal of Science
President Barack Obama recently presented the National Medal of Science to University of Delaware alumnus Rakesh Jain.
Warren Award
Rosalind Johnson, assistant dean for student success in the NUCLEUS Program in UD's College of Arts and Sciences, was presented the John Warren Excellence in Leadership and Service Award during a May 26 ceremony.
"Sandwich composite structures offer superior mechanical properties at a low weight and are therefore quite popular in applications such as aircraft cabins and wind turbine blades," Sargianis says. "However, sandwich structures made with traditional materials aren't good at reducing noise and vibration, so we're looking to natural materials to see if we can improve those properties."
"The advantage to using natural materials, as opposed to synthetic materials such as carbon or glass fibers," he adds, "is that we can essentially 'grow' our own materials and reduce the carbon emissions associated with synthetic material production.  In addition, natural materials are recyclable and biodegradable."
Sarginias is co-author, with Suhr and CCM postdoctoral researcher Hyung-ick Kim, of a paper recently published in Scientific Reports detailing the use of cork as an environmentally friendly solution for quiet sandwich composites. Scientific Reports is a new initiative of the prestigious journal Nature.
"James is an absolutely outstanding student," says Suhr. "He just finished his master's degree, and he has already published two papers in reputable, refereed journals and has two more under review. He is a self-motivated, hard-working problem solver who requires minimal direction. I have no doubt that he will become a leader in science and technology."
CCM Director Jack Gillespie, who serves as faculty adviser to the UD student SAMPE chapter, notes that Sargianis is the latest in a long line of composites students who have taken top prizes at SAMPE competitions.
"We've been fortunate to attract top students to the center, and in turn the environment here helps them reach their potential as researchers and leaders," Gillespie says.
Sargianis, who earned his bachelor's degree at UD in 2010, has accepted a position with the Naval Air Systems Command (NAVAIR) in Lakehurst, N.J.
About SAMPE
The Society for the Advancement of Material and Process Engineering (SAMPE), an international professional member society, provides information on new materials and processing technology via technical forums, journal publications, and books.  As the only technical society encompassing all fields of endeavor in materials and processes, SAMPE provides a unique and valuable forum for scientists, engineers, and academicians.
Article by Diane Kukich
Photo by Evan Krape