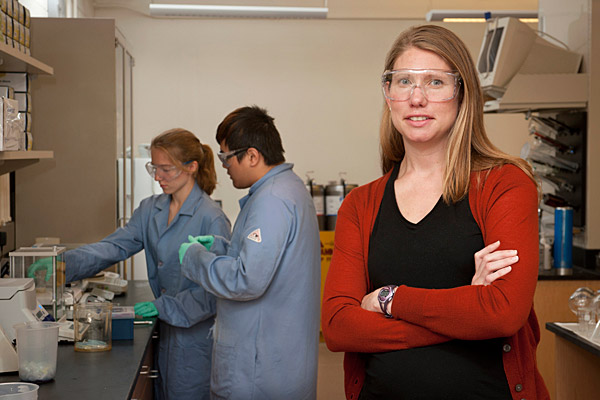 Seeding research
University of Delaware Research Foundation awards 11 projects
11:36 a.m., June 12, 2012--The University of Delaware Research Foundation (UDRF), a private corporation chartered in 1955 to support UD research, has funded 11 new projects in science and engineering on the UD campus. 
Each project is supported by a $35,000 grant — a combination of $25,000 from UDRF and $5,000 each from the provost and the researcher's dean. The grants seed original, high-priority, "proof of concept" studies that are designed to lay the groundwork for future proposals to external agencies such as the National Institutes of Health, the National Science Foundation and others. 
Chronic wounds
UD's Millicent Sullivan and Kristi Kiick have received a $1.4 million grant from the National Institutes of Health for research that could provide a new approach to the treatment of chronic wounds.
Prof. Heck's legacy
The American Chemical Society is highlighting the legacy of the late Nobel laureate Richard Heck, the Willis F. Harrington Professor Emeritus of Chemistry at the University of Delaware with a digital tribute on its publications website.
"Typically, only a small percentage of the competitive research proposals submitted to federal agencies are funded," said Mark Barteau, senior vice provost for research and strategic initiatives. "UDRF provides early career University of Delaware researchers with a critical opportunity to test new ideas and collect data that may give them a competitive edge later on, as they develop external proposals."
Article by Tracey Bryant
Photo by Kathy F. Atkinson