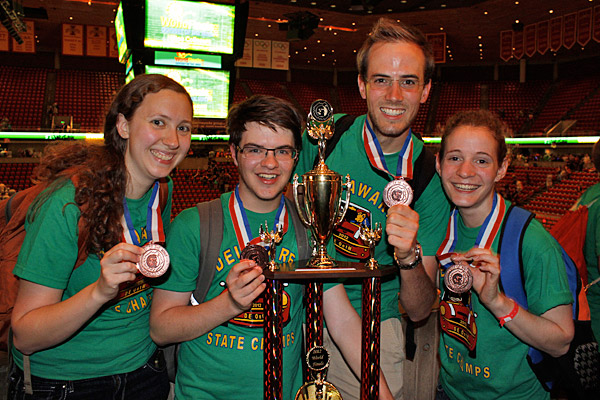 Creative thinking
UD teams among tops at Odyssey of the Mind World Finals
9:05 a.m., June 21, 2012--Two teams from the University of Delaware finished near the top at the Odyssey of the Mind World Finals held recently at Iowa State University in Ames, Iowa.
The Odyssey of the Mind is an international program providing creative problem-solving opportunities for students from kindergarten through college. Thousands of students from the U.S. and around the world participate in local, state and world level competitions. 
National Medal of Science
President Barack Obama recently presented the National Medal of Science to University of Delaware alumnus Rakesh Jain.
Warren Award
Rosalind Johnson, assistant dean for student success in the NUCLEUS Program in UD's College of Arts and Sciences, was presented the John Warren Excellence in Leadership and Service Award during a May 26 ceremony.
The UD team participating in the Weird Science competition sponsored by NASA came in third, while the To Be or Not To Be team took sixth place.
Joy Stephenson, cofounder and former president of Odyssey at UD, a registered student organization, participated in the World Finals 2012 as a team member in the World Science category.
"Each team of four students competes in one of five competitions," Stephenson said. "This year there were over 800 teams from the United States and 14 countries."
Weird Science team members included Stephenson, a problem captain representative for the Delaware Creative Activities and Problem Solving's Delaware Odyssey of the Mind; Michael McHugh, a freshman in the College of Arts and Sciences from Lewes, Del.; Matthew Wiltshire, a junior in the College of Health Sciences, also from Lewes; and Violet Kiesel, a senior in the colleges of Arts and Sciences and Health Sciences from Bear, Del.
To Be or Not To Be team members included Andrew Davis, a senior in the College of Engineering from Dover, Del.; Emily Chick, a senior in the College of Education and Human Development from Magnolia, Del.; Kelly Farrell, a sophomore in the College of Arts and Sciences from Center Valley, Pa.; and Alyssa Walter, a sophomore in the College of Education and Human Development from Dover.
"I did Odyssey in high school," said McHugh. "I was excited to learn that UD had teams and that I could continue competing." 
Stephenson, production assistant for the UD Resident Ensemble Players' productions of O Beautiful and Our Country's Good, graduated in May with a bachelor's degree in mass communications, with minors in theatre production, performance studies and journalism.
"Creative problem solving in not just a luxury, it's mandatory for today's changing world," Stephenson said. "Doing Odyssey for the past 11 years is what taught me how to think outside of the box." 
For more information about participating in the Odyssey at UD, visit the Facebook page. 
Article by Jerry Rhodes