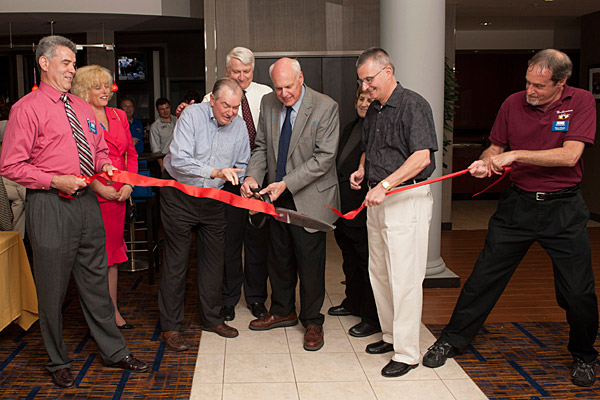 New look
Courtyard Newark lobby undergoes complete renovation
3:59 p.m., June 11, 2012--The lobby of the Courtyard Newark at the University of Delaware has just completed a full renovation as part of a Marriott Courtyard initiative "Refreshing Business." The hotel, which opened in late 2004, was on the normal cycle for brand-required renovations. 
The renovated lobby adds several new features for convenience of hotel guests:
From graduates, faculty
As it neared time for the processional to open the University of Delaware Commencement ceremonies, graduating students and faculty members shared their feelings about what the event means to them.
Doctoral hooding
It was a day of triumph, cheers and collective relief as more than 160 students from 21 nations participated in the University of Delaware's Doctoral Hooding Convocation held Friday morning on The Green.
• A "Bistro," featuring Starbucks coffee products and a wide selection of breakfast and lunch items for "to go" service, along with a variety of hot food items for breakfast and dinner. 
• a new table-service bar, in response to numerous requests from hotel guests, complements dinner service in the evenings, with two televisions making it a great location to watch sports and entertainment events; 
• an airline boarding pass printer dedicated to helping guests print their own airline boarding passes at no charge;
• a "Go Board," a 55-inch touch-screen TV that features up to the second information about the Newark area and updates from USA Today online;
• the "24/7 Market," a new takeout service for the convenience of hotel guests that features soft drinks, snacks and personal items available just next to the hotel front desk 24 hours a day; 
• "Media Pods," which are private seating booths with full free Wi-Fi, electrical outlets and small TV that offer a convenient work and dining space in the hotel lobby; and
•  a lobby theater, featuring a large-screen HDTV with sofa seating for small gatherings. 
In addition, all lobby furniture and carpets were replaced to enhance the new look of the popular Marriott Courtyard brand. 
The UD hotel was 500th of 900 hotels being renovated by Marriott.   
Photo by Kathy F. Atkinson