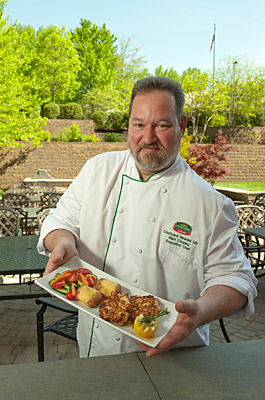 Chopko honored
Courtyard chef's crab cakes again take Best of Delaware award
3:10 p.m., June 18, 2012--Mark Chopko believes that being named first in the First State for the crab cakes he dishes up at the Courtyard Café is just as rewarding the second time around.
The esculent delights served by Chopko, executive chef at Marriott's Courtyard Newark at the University of Delaware, were chosen tops by critics in the 2012 Best of Delaware awards appearing in the July issue of Delaware Today magazine.
National Medal of Science
President Barack Obama recently presented the National Medal of Science to University of Delaware alumnus Rakesh Jain.
Warren Award
Rosalind Johnson, assistant dean for student success in the NUCLEUS Program in UD's College of Arts and Sciences, was presented the John Warren Excellence in Leadership and Service Award during a May 26 ceremony.
Chopko's classic crustacean creations and the Courtyard Café also finished first in 2011.
"We've been doing this from the very beginning, and it's nice that we're now getting the recognition," Chopko said. "It feels very exciting to win two years in a row."
Baked to a golden brown, the 100 percent jumbo-meat crab cakes also are the most sought after item on the Courtyard Café menu.
The palate-pleasing favorites are often served with locally grown vegetables, Chopko said. 
"We try to change and use sides that are in season, like asparagus in the spring and squash in the fall," Chopko said. "We also grow our own herbs and grape tomatoes."
While tartar and cocktail sauces made on the premises are a menu option, Chopko said most aficionados simply enjoy their favorite dish at the Courtyard Café condiment-free. 
"People just like our crab cakes because they're 100 percent crab meat, and gluten free," Chopko said. "I do make a creole mustard that gives the crab cakes a little zing if you want it." 
Chopko said that when he is dining out he is on the lookout for new items to try, as well as sampling traditional restaurant fare.
"I'll order something I haven't tasted before," Chopko said. "I'll also try the pot roast, and compare it to mine and see if it has something I might want to use myself." 
New menu enhancements also come courtesy of Courtyard Café colleague and chef Hong Lam, Chopko said. 
"Chef Hong goes to Chinatown in Philadelphia and looks out for new dishes to spice up the menu here at UD," Chopko said. "When we have Asian guests at the café, Hong whips up something that they might like." 
William Sullivan, managing director of the campus hotel, said, "Mark also serves an incredible pot roast and chicken pot pie. Both are popular with business people and our regular customers." 
The hotel's newly renovated lobby, complete with a new table-service bar, enhances the dining experience for longtime patrons, Sullivan said.
"We're happy to have a new lobby, but some things have not changed, including Chef Mark's crab cakes," Sullivan said. "While we were renovating the lobby, customers would say, 'I hope you're not changing the crab cakes too.'" 
The Café Courtyard also serves special occasions such as wedding receptions and rehearsal dinners, bar mitzvahs, retirement dinners, corporate receptions, birthday parties for kids and grownups alike, as well as a crab feast later in the season.
While taking the Best of Delaware award two years running also should help to bring in new customers, Sullivan said it's also nice to see the staff cited for their hard work. 
"Delaware Today is one of the most upscale magazines in the area, and we are proud that we are recognized by the critics there," Sullivan said. "The critics interject a more stringent criteria for giving their awards. We are honored to be part of the process." 
Article by Jerry Rhodes
Photo by Kathy F. Atkinson